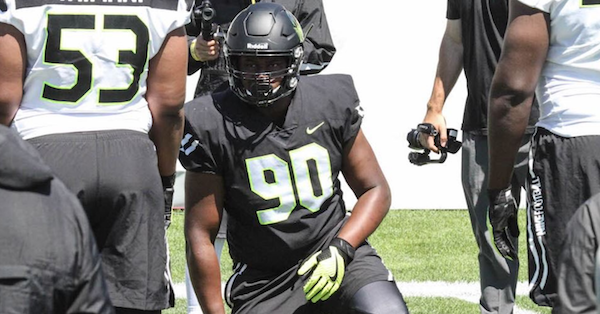 @rickyo_90/Twitter
@rickyo_90/Twitter
Four-star DL Rick Sandidge is one of the most highly coveted defensive tackles in the class of 2018 and three coaches in his top 11 are making a huge impact on his recruitment: Tray Scott (Georgia), Will Muschamp (South Carolina) and multiple coaches at Florida.
Sandidge tweeted out his top 11 on his personal Twitter account in May that contained the following: Ohio State, South Carolina, NC State, North Carolina, Virginia Tech, Michigan, Florida State, Florida, Georgia, LSU and Miami.
When speaking with 247sports, Sandidge specifically mentions how vital Scott has been in keeping Georgia in the running for his commitment.
Via 247sports:
"My interest in Georgia is high," Sandidge said. "Georgia is high for me because I have a connection with Coach Scott. Tray Scott came from UNC and they were the first school to offer me. It was weird seeing him in new colors but it is cool to think about him at Georgia."
Still, 247sports' Crystal Ball predictions give the Gamecocks a 100 percent chance of landing Sandidge at this point, and the No. 11 DT in the class does specifically mention South Carolina among the three in the piece.
Sandidge is the No. 123 player in the class of 2018, per 247sports.