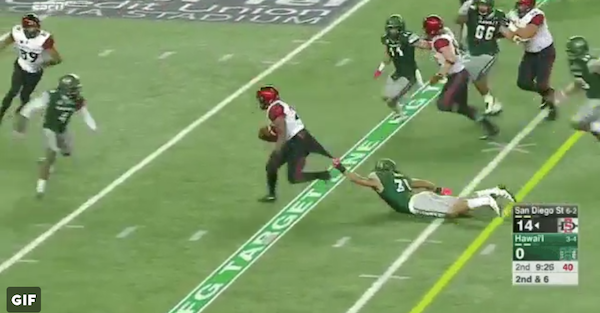 @YahooDrSaturday/Twitter
San Diego State's 28-7 win over Hawaii wasn't a very thrilling game, and if you weren't up late Saturday night, you likely missed one of the more entertaining 12-yard runs in college football this season.
Aztec running back Rashaad Penny took a handoff in the second quarter of the game, and Hawaii linebacker Jahlani Tavai tried to arm tackle the running back.
That didn't go very well for him.
Penny took Tavai along for a ride for a few yards before another Hawaii defender finally tackled him.
Arm tackling is never a good idea, and especially not when trying to tackle Penny, who's already rushed for 1,368 yards and 12 touchdowns this season.
Coaches should use that video as a lesson on how not to properly tackle someone.
(h/t Yahoo Sports)