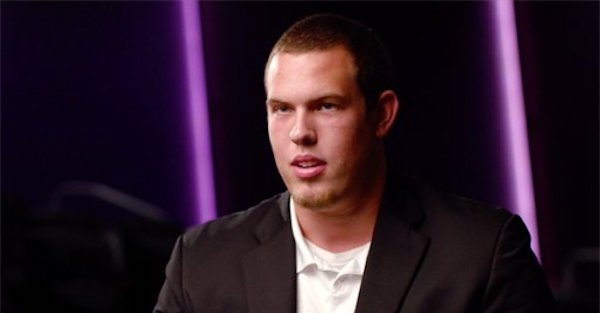 @randyslovacek/Twitter
Kansas State offensive tackle Scott Frantz announced to ESPN on Thursday that he is gay, joining Arizona defensive end My-King Johnson as the first two openly gay active FBS players.
Frantz started 13 games for Kansas State last season and says he came out to his teammates in 2015 after a motivational speaker encouraged players to reveal details about themselves that they had never told anyone, per ESPN:
"I came out to my teammates, and I've never felt so loved and so accepted ever in my life than when I did that," Frantz told ESPN's Holly Rowe on Wednesday. "And ever since then it's been great. I've grown so much closer to my teammates since. So it's been an amazing experience.

"So the very first time I said those words were in front of, you know, 110, 120 football guys," Frantz said. "So you can imagine how scared I was, how nervous I was. … This could go either really bad or could go really good. And thankfully my teammates embraced me with open arms, and it was great."
The news comes after former New England Patriots and Kansas City Chiefs offensive tackle Ryan O'Callaghan revealed in an interview with Outsports in late-June that he is gay.
"No one is going to assume the big football player is gay," O'Callaghan said in the interview. "It's why a football team is such a good place to hide."
O'Callaghan, who said he originally contemplating suicide after his NFL career was over, initially came out to then-Chiefs general manager Scott Pioli in 2011. O'Callaghan stated in his interview that he hopes he can use publicly coming out as a way to help other LGBTQ people struggling with their identity.
O'Callaghan, who played in the NFL for five seasons, made 20 starts in his career for both the Patriots and the Chiefs. The 33-year-old Cal product was originally taken in the fifth-round of the 2006 NFL Draft by New England.