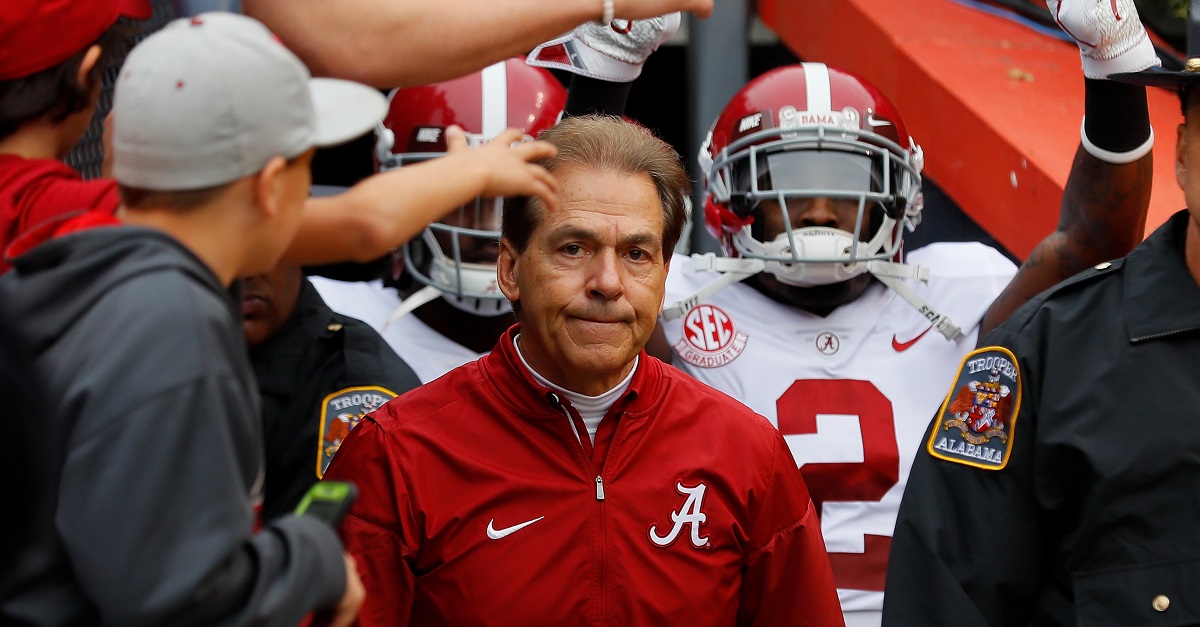 Kevin C. Cox/Getty Images
AUBURN, AL - NOVEMBER 25: Head coach Nick Saban of the Alabama Crimson Tide leads his team on the field prior to the game against the Auburn Tigers at Jordan Hare Stadium on November 25, 2017 in Auburn, Alabama. (Photo by Kevin C. Cox/Getty Images)
Brevin White, a four-star quarterback prospect, is apparently stuck between committing to the Alabama Crimson Tide or the Princeton Tigers.
Reread that lede over, as you might have missed the absurdity of it all. A four-star quarterback is "50-50" between the historically great Crimson Tide and an Ivy League school.
Some backstory first, because this isn't as actually odd as it might seem.
The senior from Paraclete (Calif.) has been committed to play for Princeton since July and, in short, that indicates a real lean toward academics-first institutions. But then, you know, Nick Saban came a calling.
And what is the fallout after this kid went to Alabama?
"I think it's now pretty 50-50," said Dean Herrington, White's high school coach, via AL.com.
If you had Nick Saban battling an Ivy League program for a four-star quarterback in 2018, please tell me what lottery numbers I should play this week.
The 6-foot-2, 185-pound California native is the 13th best pro-style quarterback in this year's class, according to the 247Sports Composite rankings.
Per AL.com:
Herrington thinks White will make a decision by the end of the week.

According to Herrington, Alabama told White after the official visit to think about things for a week and that the spot is his if he wants it.
Life is, honestly, amazing sometimes.