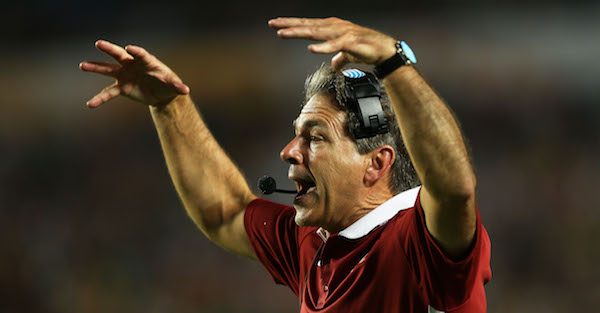 MIAMI GARDENS, FL - JANUARY 07: Head coach Nick Saban of the Alabama Crimson Tide shouts to his players during the 2013 Discover BCS National Championship game against the Notre Dame Fighting Irish at Sun Life Stadium on January 7, 2013 in Miami Gardens, Florida. (Photo by Mike Ehrmann/Getty Images)
The District Attorney chose not to prosecute Alabama players Cam Robinson, a surefire first-round pick in next year's NFL Draft and one of the vital members of the Crimson Tide, on a felony stolen weapon charge, along with "Hootie" Jones on a misdemeanor.

While the two players weren't punished by the law, Nick Saban and Alabama reportedly have handed down punishment for the duo, per KNOE (H/T Dr. Saturday):
"Per documents published by television station KNOE in Louisiana, the two players were indefinitely suspended on May 19. Jones and Robinson were arrested early May 17 for drug and weapons possession charges.
The players have also faced other discipline. According to the video report from KNOE, documents show both players have had to undergo weekly drug tests and visit drug counselors. They had also been told to take gun safety classes and Robinson did 26 hours of police ride alongs later in May."
With these issues in their rearview, Robinson and Alabama can shift its focus to defending the national championship when the season kicks off September 3, against USC in Arlington.