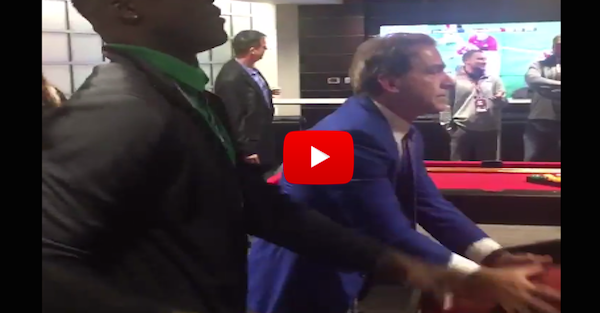 Nick Saban is the type of guy who can coach, and win, his fifth National Title game, and then four days later shoot hoops with a four-star recruit at the arcade to try to get them to come to the University of Alabama. This is one of the many reasons why Saban is the most revered, and at the same time, most hated head coaches in all of college football.
The video below shows Saban showing off his shooting form with four-star wide receiver prospect AJ Brown (6-foot-1, 220 pounds, Starkville, Ms.). The video, courtesy of Brown's Twitter account, is pure gold. Note the blue blazer Saban is rocking while making buckets.
Per 247Sports, Brown is highly expected to verbally commit to Mississippi State. His chances of going to Alabama may have gone down too, since Saban apparently hilariously beat him in the game of Pop a Shot.
Then again, maybe Saban is just showing off the fact that he never likes to lose, ever, even at arcade games.