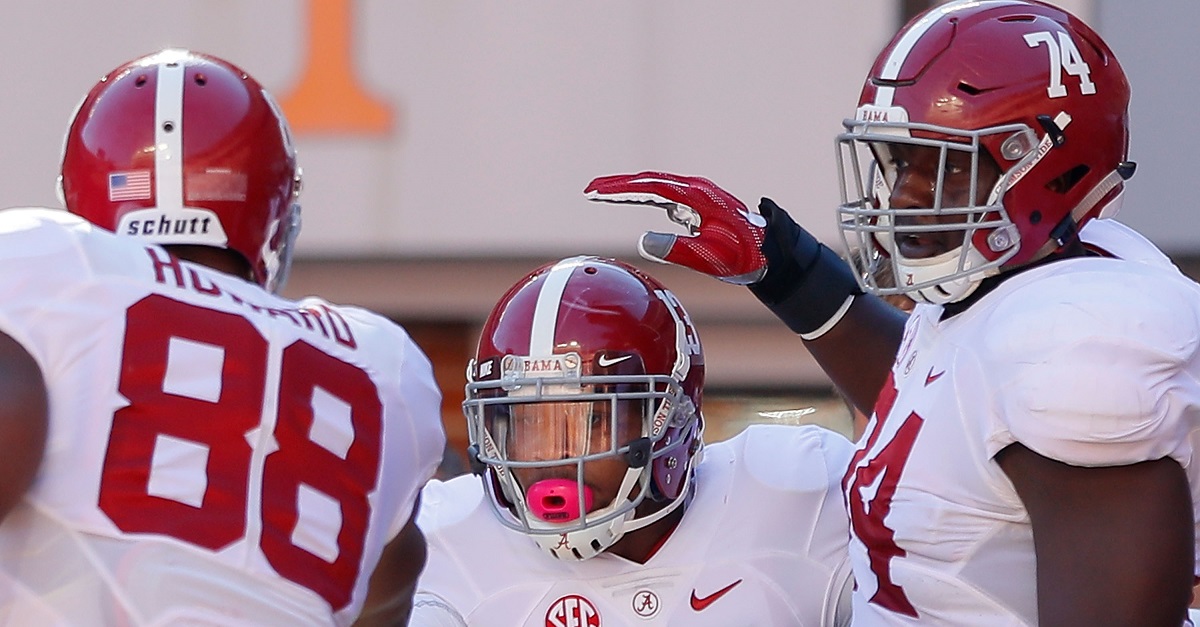 Kevin C. Cox/Getty Images
KNOXVILLE, TN - OCTOBER 15: ArDarius Stewart #13 of the Alabama Crimson Tide reacts after rushing for a touchdown against the Tennessee Volunteers with O.J. Howard #88 and Cam Robinson #74 at Neyland Stadium on October 15, 2016 in Knoxville, Tennessee. (Photo by Kevin C. Cox/Getty Images)
The Alabama Crimson Tide have had quite the offseason — highlighted by the loss of Lane Kiffin to Florida Atlantic University and Steve Sarkisian to the Atlanta Falcons. In 2017, the Tide will have another new offensive coordinator, Brian Daboll, and although head coach Nick Saban has spoken a lot about his offensive coordinator, a lot of the players hadn't until now.
Here is what star running back Damien Harris said about the transition via The Daily Bama Blog:
"We didn't really have a choice but to just kind of accept it," rising junior running back Damien Harris said Thursday. "You just have to have a positive outlook and be like, 'Coach Saban wouldn't put us in any sort of position that wasn't beneficial for us.' That's how we looked at it, that he was only trying to do what was going to help us be the most successful."
Harris's comments are positive, but it also seems like he was comfortable with the system that Kiffin and Sarkisian had installed at Alabama, but he's still trusting the process.
Star wideout Calvin Ridley also opened up about the change to The Daily Bama Blog:
"I feel like he's a really smart guy," Tide junior receiver Calvin Ridley said two weeks ago. "Obviously, he was with the Patriots and has won a lot of games and Super Bowls, so I respect him."
We're still several months out from Alabama's big-time opener against the Florida State Seminoles, but it should be interesting to see more information trickle out regarding Daboll and the offense the Tide will be running next season.
[h/t SaturdayDownSouth]