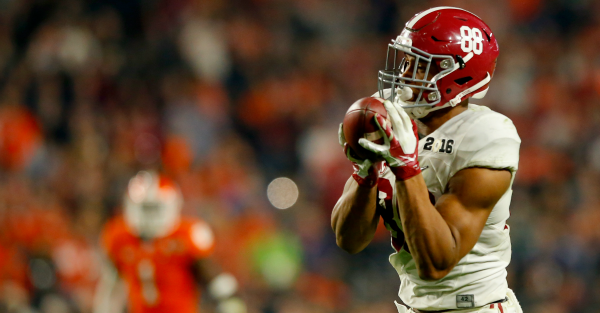 The star of Alabama's 45-40 win over Clemson in the College Football Playoff championship game has made his decision regarding the 2016 NFL Draft. Alabama tight end OJ Howard announced on Twitter on Monday afternoon that he would in fact be returning to Tuscaloosa for one more season in 2016.
Howard, who was seldom used during Alabama's regular season, getting just 335 yards in 30 receptions all year, was offensive coordinator Lane Kiffin's secret weapon against Clemson. Howard had five catches for 208 yards and two touchdowns against the Tigers. Even head coach Nick Saban said the staff not using him more all season was a result of "bad coaching."
Maybe Saban's comments convinced the junior to stick around. Looking at what Alabama has coming back next season is flat-out impressive — besides running back Derrick Henry and defensive lineman A'Shawn Robinson, the Tide gets back the majority of its draft-eligible players.