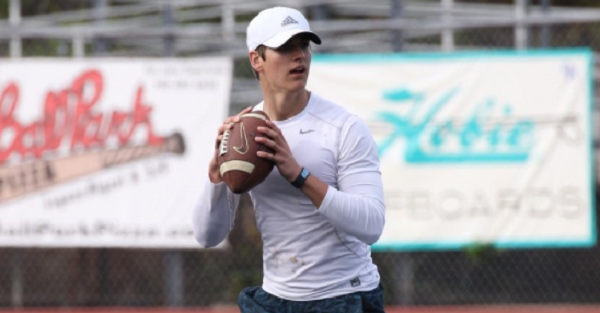 Twitter/Brevin White
Four-star quarterback Brevin White has been committed to Princeton for months, but Nick Saban and the Alabama Crimson Tide made a late push for the highly-rated recruit. However, that push was not enough, as National Signing Day has come and gone and White has stuck with his commitment to Princeton.
In an interview with Sports Illustrated, White explained his decision, believing that his career at Princeton will better set up his future while also still giving him a prime opportunity to make it to the NFL.
From Sports Illustrated:
?He said the Ivy level of competition has gotten a lot better from when he was there. So more Ivy kids have a better shot to make it into the league. That was eye-opening, but if you?re good enough the NFL will find you.?

…

?It?s not the easiest route to go where you look in the stands at all these big colleges and you see 100,000 fans. ?Wow, it?d be cool to run out of the tunnel in front of that and play in front of those crowds and you?re getting your school paid for.? You get a nice place to live. All of those things are nice. At the end of the day, there?s a greater payoff from Princeton and all of the Ivies if you apply yourself and work hard because they do offer a once-in-a-lifetime experience, just in a different way than the bigger universities."
White is rated as a four-star pro-style quarterback by the 247Sports Composite, and he had been committed to Princeton since July before he picked up an offer from Alabama a couple of weeks ago. White eventually took an official visit to Tuscaloosa and gave the Tide real thought, but as he explained above, it looks like he is just fine giving his career a shot at Princeton.
For what it's worth, while Alabama has been one of the best factories for NFL talent, that hasn't exactly been the case in terms of their quarterbacks during Saban's run with the school. Meanwhile, passers like Carson Wentz, Blake Bortles, and current prospect Josh Allen have proven that you don't have to go to a traditional powerhouse to become a Top 5 NFL Draft pick.
White is Princeton's highest-rated recruit since Kurt Holuba in 2014. Holuba was rated as a four-star by ESPN.