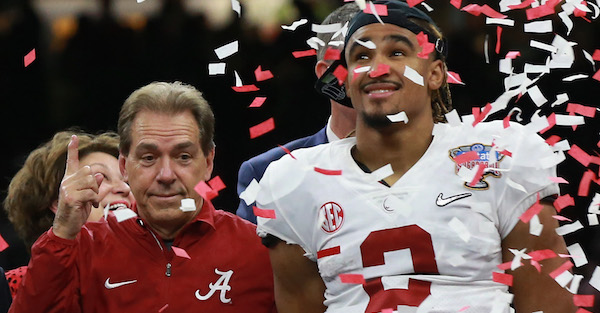 Sean Gardner/Getty Images
NEW ORLEANS, LA - JANUARY 01: Jalen Hurts #2 of the Alabama Crimson Tide and head coach Nick Saban celebrate thier win after the AllState Sugar Bowl against the Clemson Tigers at the Mercedes-Benz Superdome on January 1, 2018 in New Orleans, Louisiana. (Photo by Sean Gardner/Getty Images)
The Alabama Crimson Tide are a dynasty and there's no doubting that fact, but one analyst, CBS Sports' Barrett Sallee, thinks the national champions can be even better.
That is, of course, if Nick Saban believes that former Ole Miss head coach Hugh Freeze is worth taking a second-chance on.
TideSports.com is reporting that Saban is currently considering hiring Freeze, and he wants him in a role that would see him on the field and on the sideline during games.
Here's that report, which states that the SEC would have to approve Saban's desire to have Freeze on the Alabama staff as an on-field coach:
"Earlier this week, I reported that former Ole Miss coach Hugh Freeze had been in Tuscaloosa and at UA to meet with Saban. Saban respects Freeze?s offensive mind, and given the fact Ole Miss gave Alabama fits during Freeze?s tenure it?s easy to see why. So what would Freeze?s role be if Saban hired him? It?s a great question and one that, as of Tuesday morning, hadn?t been settled upon yet. Saban is really pushing for Freeze to be an on-the-field coach, The Tuscaloosa News has learned. Others in the program don?t want that happening. How much autonomy Saban has in this particular situation is unknown given Freeze?s recent history with the NCAA. Another aspect to this is that should Alabama decided to hire Freeze as an on-the-field coach, it would likely need the blessing of SEC Commissioner Greg Sankey. Sankey isn?t keen on that happening."
Freeze is, of course, fresh off an NCAA scandal that saw him ousted at Ole Miss, a scandal that featured all kinds of mishap — enough to make a mobster blush.
Saban is no stranger to giving coaches second chances, though, especially if he sees talent. Remember, he hired Steve Sarkisian as an offensive assistant, and then eventually promoted him to offensive coordinator.
For his part, Sallee doesn't seem to have an issue with Freeze getting a second-chance at Alabama. In fact, he believes having Freeze on the sideline would make the Tide very dangerous:
Of course, it's well worth noting that Alabama without Freeze is still a very dangerous program, but without a doubt, he would be a huge offensive addition. That is if the Tide can get over his past transgressions.