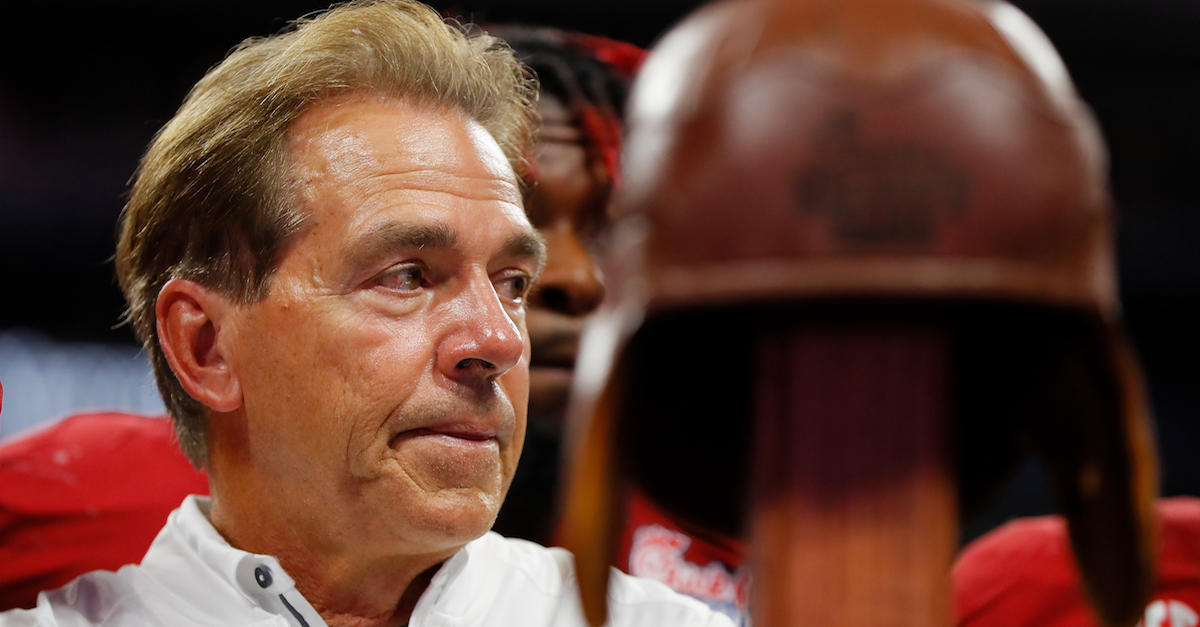 Kevin C. Cox/Getty Images
ATLANTA, GA - SEPTEMBER 02: Head coach Jimbo Fisher of the Florida State Seminoles celebrates after defeating the Florida State Seminoles 24-7 in their game at Mercedes-Benz Stadium on September 2, 2017 in Atlanta, Georgia. (Photo by Kevin C. Cox/Getty Images)
Alabama looked pretty good in a 24-7 drubbing of Florida State in the new Mercedes-Benz Stadium in Atlanta. However, the Crimson Tide didn't come away completely clean as four linebackers are injured according to coach Nick Saban, with two reportedly as season-ending injuries (via 247Sports and AL.com):
According to AL.com, starting linebacker Christian Miller reportedly has a torn biceps and is expected to miss the rest of the season. Terrell Lewis, one of Alabama's top defensive players, reportedly has a torn ligament in his elbow and is expected to miss the rest of the season as well.
?Rashaan Evans has a groin. They?ll have to check it out,? Saban said, via 247sports. ?He couldn?t play in the second half. And Anfernee Jennings has a sprained ankle and could not play in the second half.

?So, we had four linebackers ? three outside backers and an inside backer ? that didn?t play much in the second half.?
Alabama plays Fresno State next week and will likely rely on reserve players. The Tide will be faced with using its depth at linebacker, which now looks quite slim with a handful of injuries.
Miller worked as a special teams player, but earned time at linebacker as a sophomore, recording 16 tackles and 2.0 sacks. Lewis put together an 11-game resume last season, recording 11 tackles and 1.0 sacks. Evans moved to inside linebacker last year, rattling off 53 tackles, 4.0 sacks, 4.5 tackles for loss, a forced fumble and a fumble recovery. Jennings had 19 tackles in 2016.
[h/t Saturday Down South]