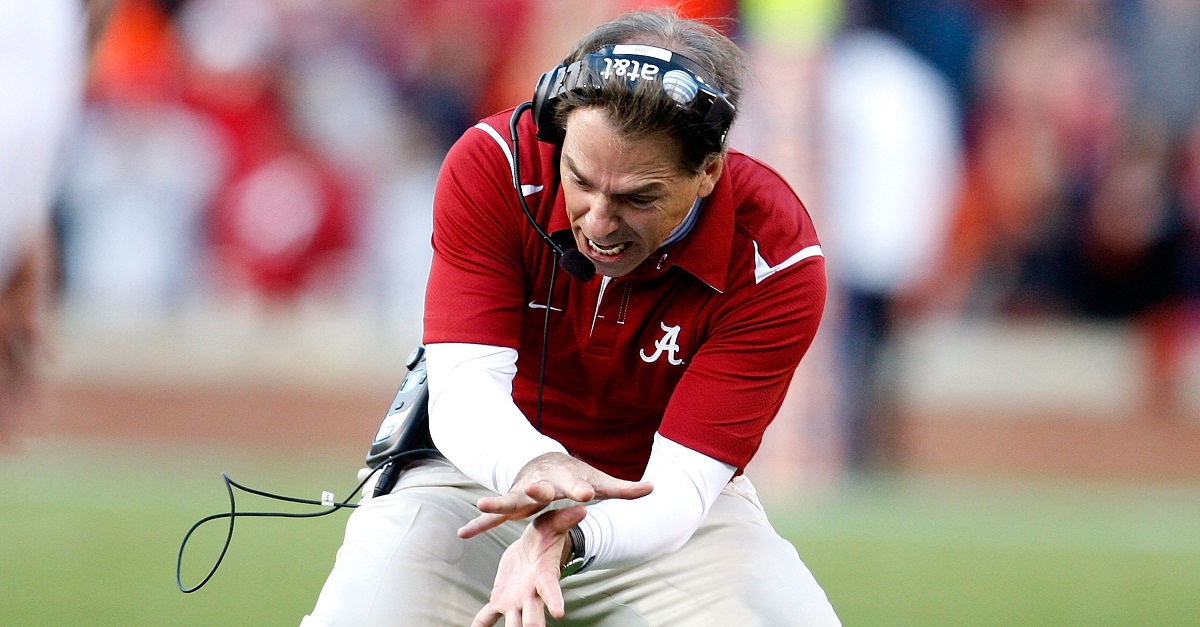 Kevin C. Cox/Getty Images
AUBURN, AL - NOVEMBER 27: Head coach Nick Saban of the Alabama Crimson Tide yells to his offense during the game against the Auburn Tigers at Jordan-Hare Stadium on November 27, 2009 in Auburn, Alabama. (Photo by Kevin C. Cox/Getty Images)
Alabama is in the running to make yet another College Football Playoff this year thanks to their 9-0 schedule and you could argue they've had an easy road to get there. That's what Colin Cowherd believes coach Nick Saban has been doing for years now and that's what's been getting him championships.
Cowherd was discussing Urban Meyer and his ability to make Ohio State great again after Jim Tressel was forced to leave and Luke Fickell didn't do much in his one season at the helm. However, they got around to Meyer's scheduling and why it was so superior to Saban's.
You know what Nick Saban never does? Goes on the road out of conference in the last five years. He doesn't do that. He plays that big opening game on a neutral field preferably somewhere below the Mason-Dixon line. Next year, Urban Meyer is playing TCU. Where are they playing? In TCU's backyard in Dallas. He also has a road game coming up at Texas, at Oregon, at Notre Dame. He's getting on the phone.
He does make a good point that Saban never goes out of his way to play at someone else's house in the Power 5 outside of the SEC. He's done it once ever when he took his team to Penn State when the Nittany Lions were ranked No. 23. Other than that, he has always scheduled tougher opponents at neutral fields where Alabama fans will travel well like Dallas Cowboys Stadium and the Georgia Dome in Atlanta.
You can find the entire video of their discussion here.
[h/t The Spun]