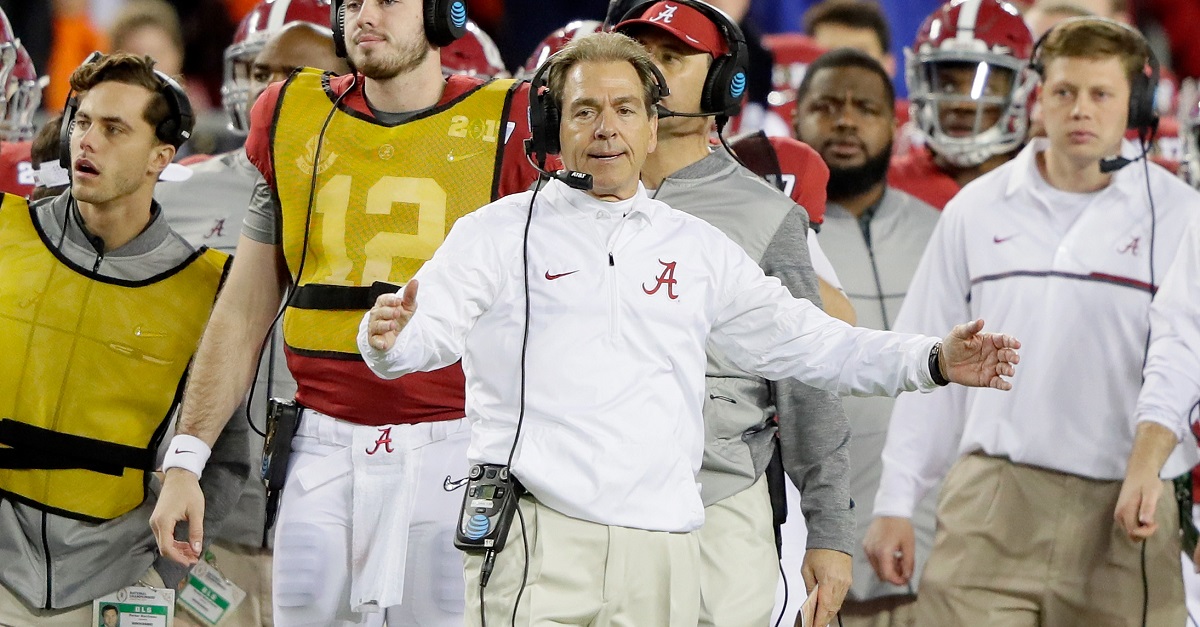 Jamie Squire/Getty Images
TAMPA, FL - JANUARY 09: Head coach Nick Saban of the Alabama Crimson Tide reacts on the sideline during the second half against the Clemson Tigers in the 2017 College Football Playoff National Championship Game at Raymond James Stadium on January 9, 2017 in Tampa, Florida. (Photo by Jamie Squire/Getty Images)
Nick Saban has done tremendous work as the head coach of the Alabama Crimson Tide and the results speak for themselves in that regard. However, not everything is rosy in Tuscaloosa and two of his now-former quarterbacks recently spoke Kyle Bonagura of ESPN about the "lack of communication" with Saban while with the program.
Cooper Bateman, who is now at Utah, said the following about Saban and his exit from Tuscaloosa:
"How things were communicated, there was a lack of communication. I knew I didn't want to be involved with that anymore, but fortunately that was the first game of the season — 12, 13 more to go. I put my head down and battled through it. I knew after that first game that I didn't really want to be a part of it anymore."
In addition, current Arizona State signal-caller Blake Barnett seemingly did not enjoy his stay under Saban. He was famously seen as a centerpiece of the 2016 team at the quarterback position but was quickly replaced by freshman Jalen Hurts in the season opener and that was that.
"According to him, I was their guy. Once Jalen went in, I was expecting it. But then he went out on the next series, the next series and the next series. I don't know if everything was communicated correctly."
Then, Saban addressed Barnett's decision to leave the program and was criticized for his comments. Needless to say, Barnett didn't appreciate them.
"Obviously, I didn't expect them to be happy in any way. Them being upset and holding a grudge — that was expected to me. The only thing I took offense to is that Saban goes out to media and tried to diminish my reputation for a decision I made that was best for my career individually. It was kind offensive that he would go out and bash a 20-year-old."
To some degree, players that leave a program under these circumstances will usually be less than thrilled and context is important. At the same time, this is not the best look for Nick Saban in the future and it will be interesting to see what the fallout, if any, looks like.