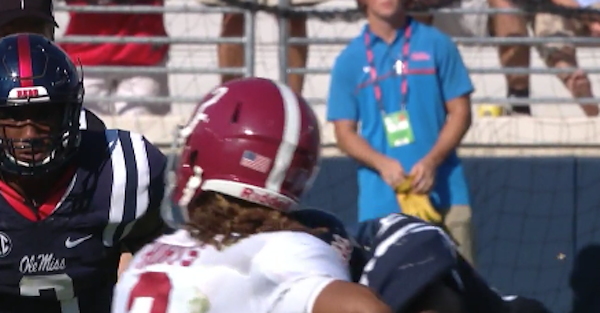 Screenshot
Jalen Hurts has been absolutely flattened for most of the afternoon, but Ole Miss appeared to get away with one late in the first half.
Related: Alabama's punter may have given us the worst punt ever
Hurts got crushed by a blindside hit, as Marquis Haynes lowered his helmet and popped the quarterback, who then fumbled. The Rebels picked the ball up and officials called a clear block in the back incorrectly, saying the ballcarrier had crossed the plane, giving the score to Ole Miss though it should have been called back.
After the play, according to the broadcast, the commentators noted there wasn't indisputable evidence (according to officials) to eject Haynes for what looked like a clear shot.
Alabama turned around and scored on back-to-back possessions to draw the game back into striking distance, 24-17.