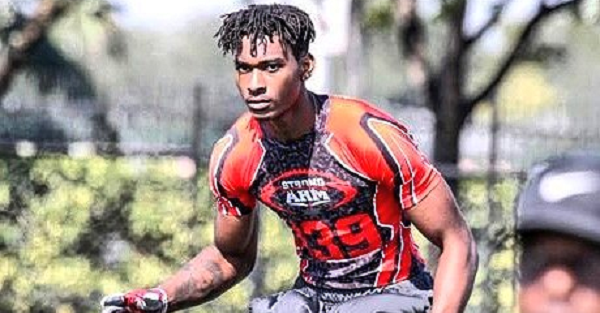 Twitter/@nadabjoseph
Nadab Joseph was committed to the LSU Tigers for more than a calendar year but that came to an end earlier this month. The four-star defensive back from Hialeah (Fla.) decommitted from his pledge to land in Baton Rouge and that came with a full-blown reopening of his recruiting process.
Since then, there has been plenty of speculation about where Joseph might land, especially in light of high-profile suitors including Florida State, Georgia and Florida. However, Joseph appears to be leaning firmly in the direction of one program and that is the Alabama Crimson Tide.
It comes as no surprise that Joseph would lean toward joining Nick Saban in Tuscaloosa, if only because the Crimson Tide often land the players they recruit. Alabama is the national leader in recruiting on a near-annual basis and, in Joseph, the Tide would be adding a talented and physically gifted cornerback.
At the moment, 247Sports' Crystal Ball projections provide Alabama with a 100 percent mark in terms of likelihood to pick up a commitment from Joseph. While that isn't the end-all be-all for any prospect, every piece of information available seems to be heading in that direction and Joseph will reportedly be visiting Tuscaloosa in November as the Tide take on LSU. Until something is firm this is an open recruitment, but Alabama seems to have the definitive edge.