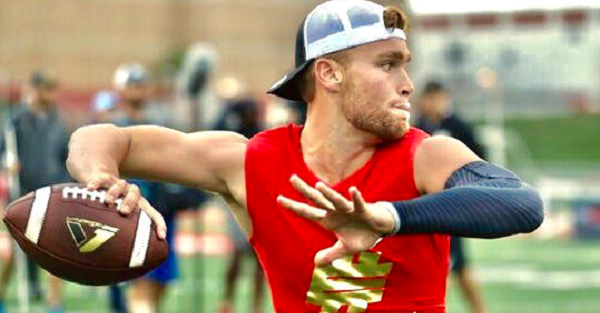 Twitter/@TheTateMartell
Tate Martell was a huge get for Urban Meyer and the Ohio State Buckeyes. The 5'10", 200-pound dual-threat quarterback from Bishop Gorman in Las Vegas is seemingly a perfect fit for the way Meyer's offense runs and, above all, Martell is an extremely talented player that ranked as the No. 2 dual-threat QB in the country for the class of 2017.
Martell's choice was made early enough where he was able to enroll at the school in January but, after the fact, he shed light on the decision to choose Ohio State over competitors like Alabama and Florida State. Hilariously, Martell used a tweet from Daniel Jeremiah of the NFL Network as a set-up tool.
From there, Martell dropped the bomb.
Fans of both Alabama and Florida State will certainly push back on this, simply because both programs have produced a number of NFL-caliber players in recent years. Still, it seems pretty clear that Martell believes his best path to the professional ranks includes a lengthy stop in Columbus and it is pretty hard to argue against him given the recent draft track record of the Buckeyes.
We are a long way from Tate Martell having his name called by Roger Goodell for his "graduation" to the next level, but we can see where his mind is at with a short Twitter message.