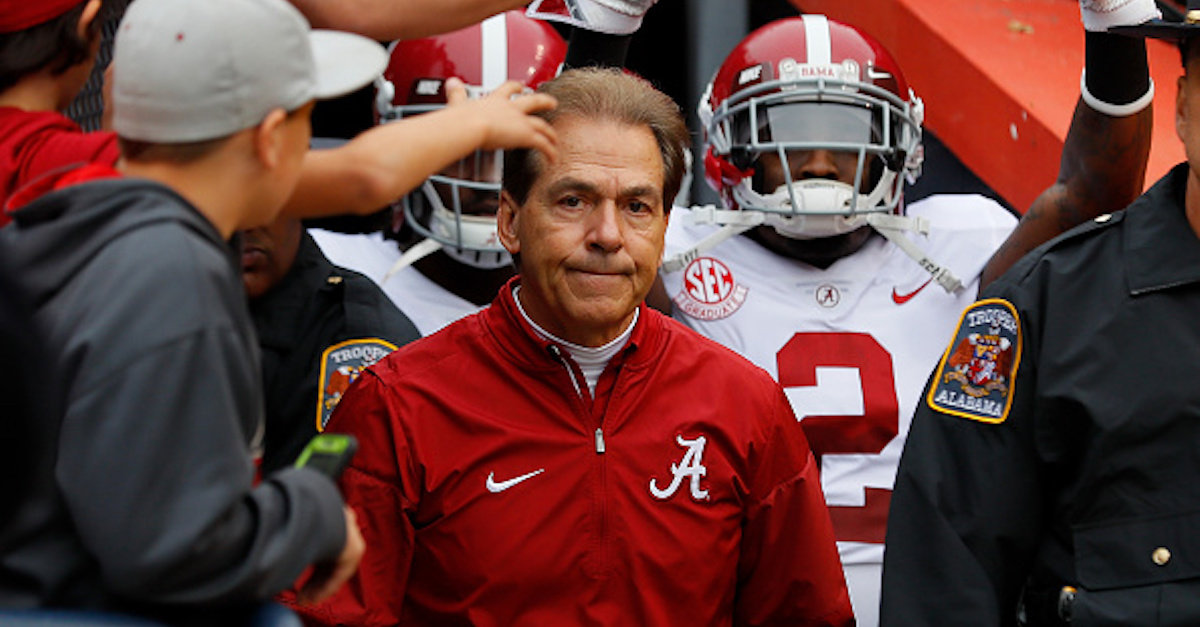 Kevin C. Cox/Getty Images
AUBURN, AL - NOVEMBER 25: Head coach Nick Saban of the Alabama Crimson Tide leads his team on the field prior to the game against the Auburn Tigers at Jordan Hare Stadium on November 25, 2017 in Auburn, Alabama. (Photo by Kevin C. Cox/Getty Images)
Nick Saban and his staff have ensured that the Alabama Crimson Tide have a loaded roster at virtually every position. Of course, injuries and transfers (among other factors) can soften the depth at a particular spot in a given season but, for the most part, the Tide have a cavalcade of quality options and the program's ability to simply "reload" after each season has been staggering.
With that said, the kicker spot has been a problem for Saban at various times during his tenure (including during the team's national title victory over Georgia) and, unlike the rest of the roster, it isn't always something that can be papered over in recruiting. To that end, Matt Zenitz of AL.com brings word that Temple graduate transfer Austin Jones is visiting Alabama this week.
Of course, Saban likely wouldn't guarantee Jones the job, even with full knowledge that he was a quality kicker of multiple seasons for the Owls. That comes as a result of Alabama recruiting a top-flight prospect in the 2017 class with Joseph Bulovas (set to be a redshirt freshman) but a little bit of "safety" in the form of a veteran could be quite attractive for Alabama.
It is a safe bet that Alabama will be better than their opponent at most positions but, as we've seen over and over again, special teams can be a leveling factor and the Crimson Tide are seemingly on the hunt for an upgrade.