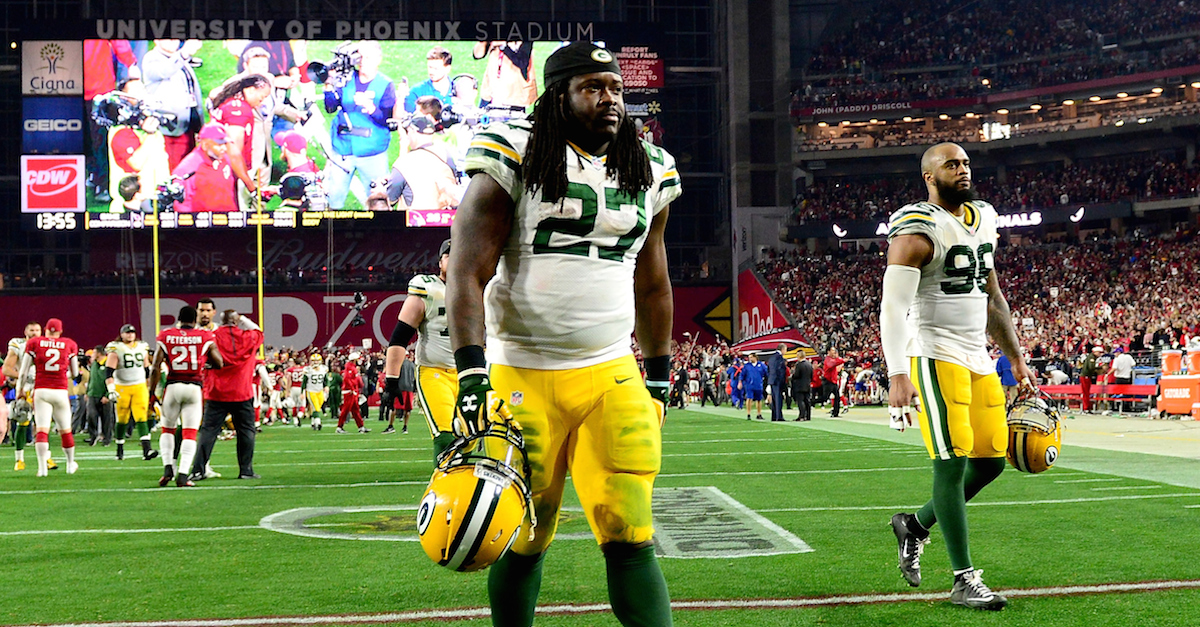 GLENDALE, AZ - JANUARY 16: Running back Eddie Lacy #27 and defensive end outside linebacker Mike Neal #96 of the Green Bay Packers walk off the field after losing in overtime to the Arizona Cardinals 26-20 in the NFC Divisional Playoff Game at University of Phoenix Stadium on January 16, 2016 in Glendale, Arizona. (Photo by Jennifer Stewart/Getty Images)
Eddie Lacy was told by the Green Bay Packers head coach Mike McCarthy that he had to lose some serious weight following Green Bay's 20-26 loss to the Arizona Cardinals in the divisional round of the NFC Playoffs. He said it gentler than that — saying "he cannot play at the current weight he's at" but regardless, the message was made clear that he wants Lacy to get in shape. Well fast forward nearly a month and a half later, and it looks like Lacy has done what he's told. A photo surfaced on Facebook from Tony Horton, the creator of the popular PX90 fitness program, and Lacy seriously looks ripped.
I guess we can no longer call Lacy overweight, judging by this photo. Shoutout to him for listening to his head coach and motivating all of us to hit the gym.
[H/T: NBC Sports]