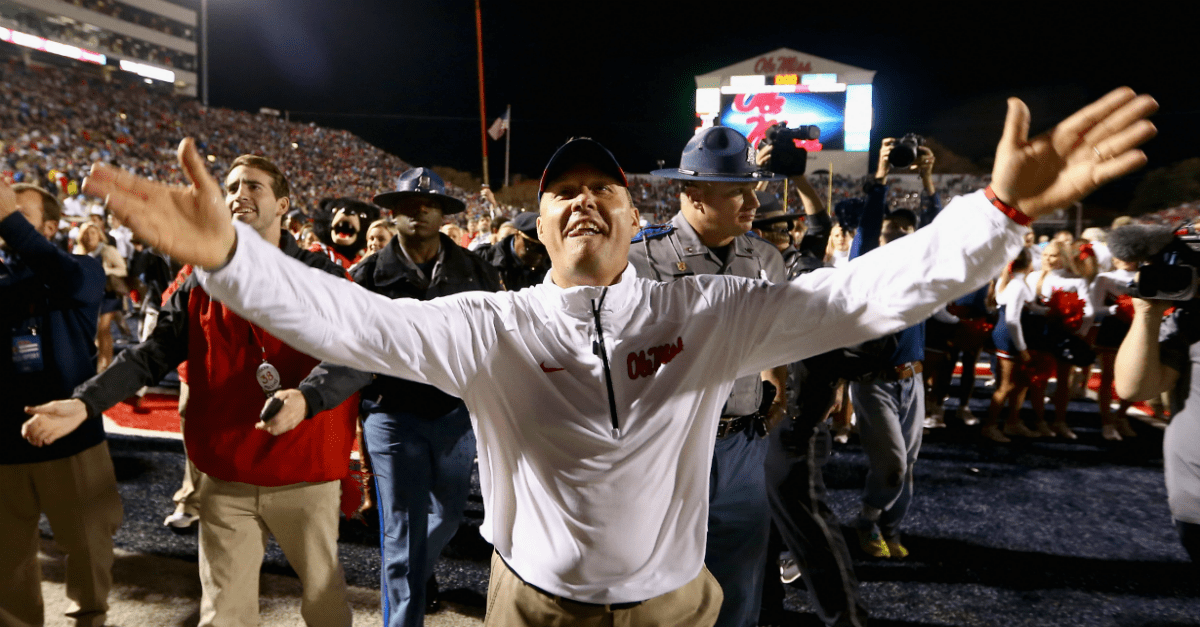 Streeter Lecka/Getty Images
OXFORD, MS - NOVEMBER 29: Head coach Hugh Freeze of the Mississippi Rebels celebrates after defeating the Mississippi State Bulldogs 31-17 at Vaught-Hemingway Stadium on November 29, 2014 in Oxford, Mississippi. (Photo by Streeter Lecka/Getty Images)
According to reports, Nick Saban would like Hugh Freeze to join the Alabama Crimson Tide staff, but two major hurdles stand in the way.
Reportedly, Saban is ?really pushing? to add Freeze to his offensive coaching staff in 2018, according to a report from Aaron Suttles of TideSports.com. It makes sense, as Freeze is known as a bit of an offensive genius.
Oddly enough, the hurdles that might prevent it from happening have nothing to do with the NCAA.
According to Suttles, Saban wants Freeze, but others in the Alabama program don't want him. The Crimson Tide may also need SEC commissioner Greg Sankey's approval due to what happened at Ole Miss. Sankey may not be keen on the former head coach joining another SEC program, per the report.
If we're being honest about about it, this all makes sense. The SEC's commissioner isn't going to be thrilled about letting a scandal-laced guy just enter a program without some sort of massive vetting. Not to mention that, you know, the vetting might not work out in Alabama's favor.
With college football's offseason moving at such a quick pace, expect something official to happen in regard to Freeze relatively soon. It just might not be what Saban is hoping for, is all.