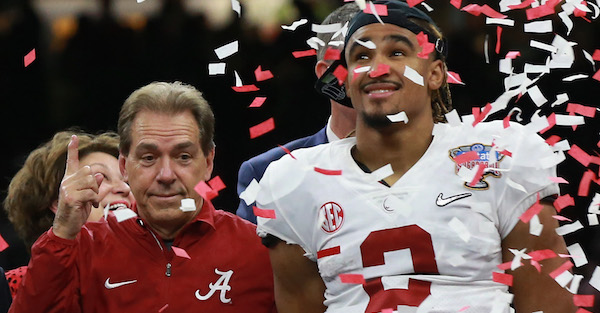 Sean Gardner/Getty Images
NEW ORLEANS, LA - JANUARY 01: Jalen Hurts #2 of the Alabama Crimson Tide and head coach Nick Saban celebrate thier win after the AllState Sugar Bowl against the Clemson Tigers at the Mercedes-Benz Superdome on January 1, 2018 in New Orleans, Louisiana. (Photo by Sean Gardner/Getty Images)
Jalen Hurts got benched on Monday night, providing the chance to freshman Tua Tagovailoa to play the role of hero, but the Alabama Crimson Tide gunslinger handled the situation perfectly.
He cheered on his teammates, was involved in helping his replacement throughout the rest of the game, and seemed genuinely happy that Alabama defeated the Georgia Bulldogs.
All of that being said, the rumors about what will happen to Hurts, especially now that Tagovailoa has quickly become a Crimson Tide legend, are escalating.
We can now add former Alabama championship quarterback Greg McElroy to the group of people speculating he could leave Alabama for another program. On the Dan Patrick Show, McElroy not only mentioned it, but named the Texas Longhorns as a potential landing spot.
As for what Nick Saban thinks about this predicament, he's not yet ready to crown anyone a starting QB for next season.
?Look, we have two good quarterbacks on our team, no doubt,? Nick Saban said during a Monday morning press conference, via PFT. ?I think that we haven?t really made a decision about that, and it?s not imperative we make one right now.

?We?ve got two fine young men who really respect each other and have worked hard to help each other all year long.?
Clearly, this is just speculation by McElroy at this point.