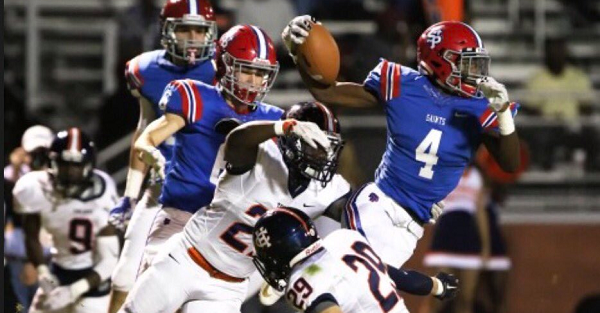 @jarmourdavis/Twitter
@jarmourdavis/Twitter
The Alabama Crimson Tide don't lose many recruiting battles and, on Friday, Nick Saban and company officially won another one. Four-star 2018 cornerback Jalyn Armour-Davis, who hails from St. Paul's Episcopal in Mobile, will be heading to Tuscaloosa for his college career, as reported by Ben Thomas of AL.com.
Thomas caught up with Armour-Davis' head coach, Steve Mask, who gave high praise to Alabama.
"He committed to the premier program in the country. They are who they are. We are excited for him and the opportunity he has in front of him."
Armour-Davis stands at 6'0″ and 160 pounds and he is the No. 80 overall player in the country according to 247Sports. That is good enough to land the rising senior among the top three players in the state of Alabama.
In terms of his recruiting battle, there were many twists and turns. Armour-Davis was considering programs like Florida State and Auburn until the fine hours but, in the end, he chose Alabama.
Armour-Davis told AL.com that it "feels great" and that "it's a good day" with regard to the commitment decision and, from this point forward, it it safe to project him for the Crimson Tide. Of course, a lot can happen between now and February but the verbal commitment is in.