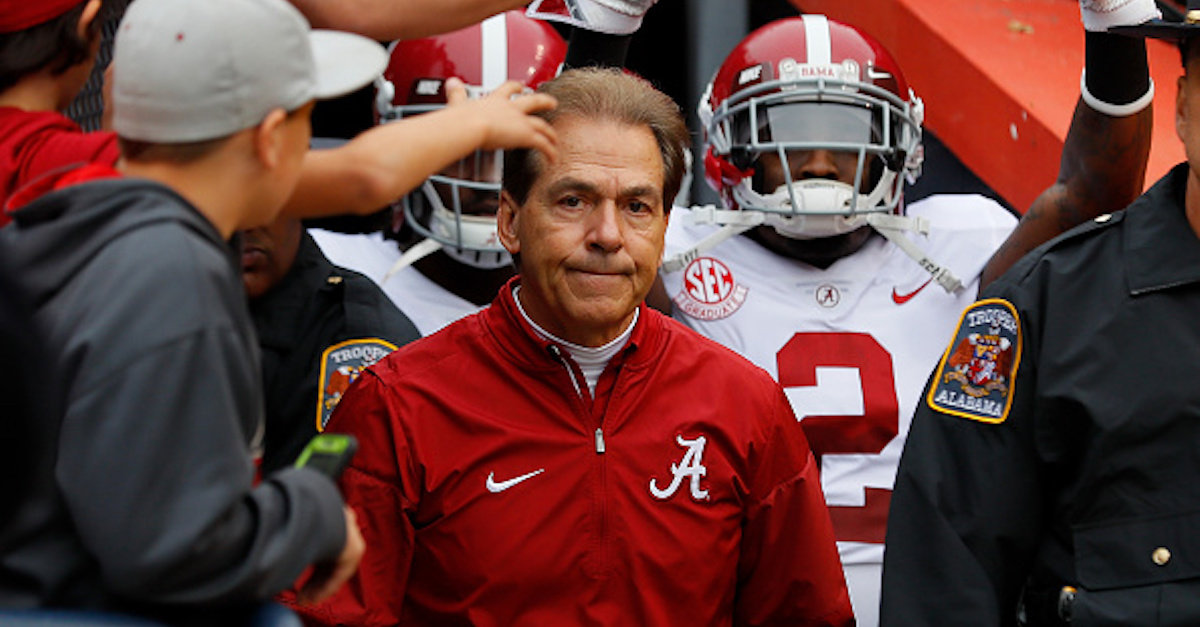 Kevin C. Cox/Getty Images
AUBURN, AL - NOVEMBER 25: Head coach Nick Saban of the Alabama Crimson Tide leads his team on the field prior to the game against the Auburn Tigers at Jordan Hare Stadium on November 25, 2017 in Auburn, Alabama. (Photo by Kevin C. Cox/Getty Images)
Alabama offered a scholarship to 13-year-old quarterback Kaden Martin, the son of former Tennessee quarterback and USC offensive coordinator Tee Martin, earlier this week.
Martin announced the scholarship offer on Sunday via Twitter.
Martin — the half-brother of Clemson freshman wide receiver Amari Rodgers — has already received an offer from FAU coach Lane Kiffin, who his father coached under during his first two seasons with the Trojans.
"Kaden is way more advanced than I was at his age," Tee Martin told AL.com earlier this year. "I was a multi-sport athlete. … I was good, but he is way past me. He is bigger than I was. He's already 5-11, 175 pounds and just turned 13. He's a little more advanced than I was. He is bigger, stronger, faster and all of that, but you can't predict success."
Tee Martin, a Mobile native, led Tennessee to a BCS Championship in 1998 while throwing form more than 4,500 yards and 32 touchdowns during his collegiate career.
While the younger Martin may have an early edge in size, he will undoubtedly face lofty expectations as both the son of a former SEC standout and a prospect with multiple scholarship offers prior to ever playing a high school football game.