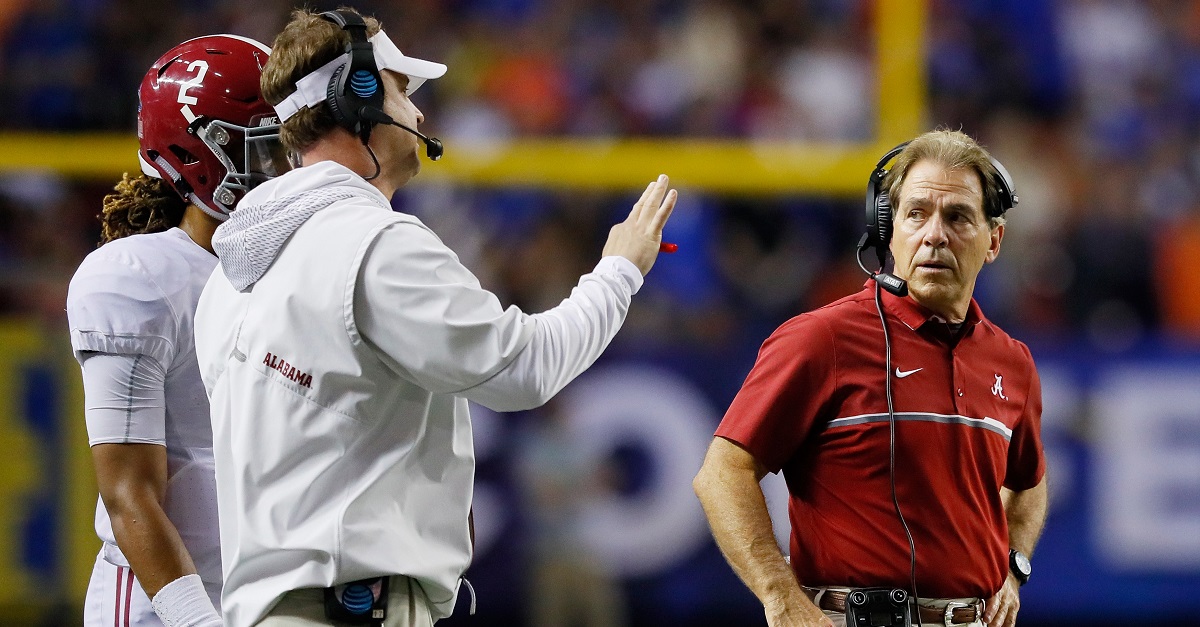 Kevin C. Cox/Getty Images
ATLANTA, GA - DECEMBER 03: Head coach Nick Saban, and Offensive Coordinator Quarterbacks Lane Kiffin talk to Jalen Hurts #2 of the Alabama Crimson Tide in the second half against the Florida Gators during the SEC Championship game at the Georgia Dome on December 3, 2016 in Atlanta, Georgia. (Photo by Kevin C. Cox/Getty Images)
Lane Kiffin's rocky exit from Alabama made headlines over the last year.
Now, head coach at FAU and blitzing through the season at 7-3 and No. 1 in Conference USA, Kiffin can take a step back and appreciate what Nick Saban did for his career. Here's what he said Saturday morning during College GameDay:
"The last 26 times we went out on that field, we were 26-0. Did it take some getting used to by me? Was it rough at first? Yes, but it's my fault. He's the head coach. You've got to remember, prior to that the last I was an assistant coach was six straight years and that was Pete Carroll. Three years with Saban changed me. Best in the world at what he does. There's not a day goes by where's not something I don't draw out of my head with 'what would Coach Saban do?'"
Saban and his former protege battled over the usage of Jalen Hurts and how the offense flowed for weeks after Kiffin's departure. That was after a public plea to attend the National Championship game from Kiffin, which Saban denied.
Saban was also very clear on frustrations with Kiffin, detailing problems leading up the team's Peach Bowl game against Washington (per Business Insider):
"I think the way we went about the last game, whether it was the preparation, the practice, being able to focus on what we need to do, for our team, relative to the distractions that occur when you are trying to hire a staff [at FAU], and recruit at another place, and all these types of things," Saban said. "Hey, Lane did the best he could. It's a difficult circumstance. We certainly wish him well. We both had a meeting [Sunday] and again this morning, that we thought this would be in the best interest and mutually agreed for both parties to move on."
Despite their problems, Kiffin has repeatedly praised Saban for helping him grow as a head coach.