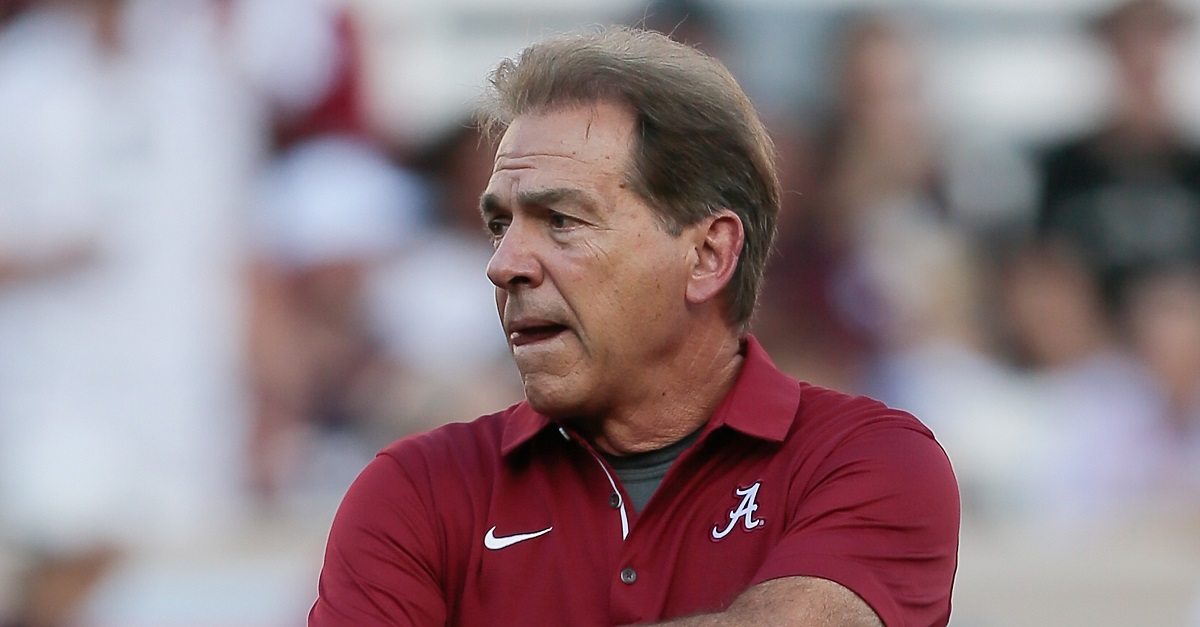 Bob Levey/Getty Images
COLLEGE STATION, TX - OCTOBER 07: Head coach Nick Saban of the Alabama Crimson Tide looks on during pre-game warmups before playing the Texas A&M Aggies at Kyle Field on October 7, 2017 in College Station, Texas. (Photo by Bob Levey/Getty Images)
According to ESPN's Tom VanHaaren, one prominent college football assistant coach actually turned down a gig at Alabama.
Yes, you read that right. He decided to not join Nick Saban and his six national championships.
The term "shocker" is oftentimes overused in sports analysis but in this case, it fits perfectly. VanHaaren reported via Twitter that Michigan assistant coach Chris Partridge was actually offered the linebackers coach gig for the Crimson Tide, but he turned it down.
Per VanHaaren, Partridge may have other offers that he's considering, but he certainly made a big move by turning down the Crimson Tide — especially with Alabama coming off yet another national championship win.
Partridge is currently Michigan's linebackers coach and co-special teams coordinator. He's also known as a great recruiter, having won "recruiter of the year" from Scout.com in 2016 and 247Sports in 2017.
Patridge came to Michigan after serving as head coach at Paramus Catholic High School in New Jersey, notably the school where Michigan snagged top recruit Jabrill Peppers from.
Perhaps there are other opportunities on the horizon for Patridge. That, or he really feels loyal to Michigan, which plucked him out from the high school ranks and has helped him ascend to the big-time assistant radar at the college level.
Stil, it's more than notable that he turned down Saban — especially when considering the success multiple Saban assistants have gone on to have.