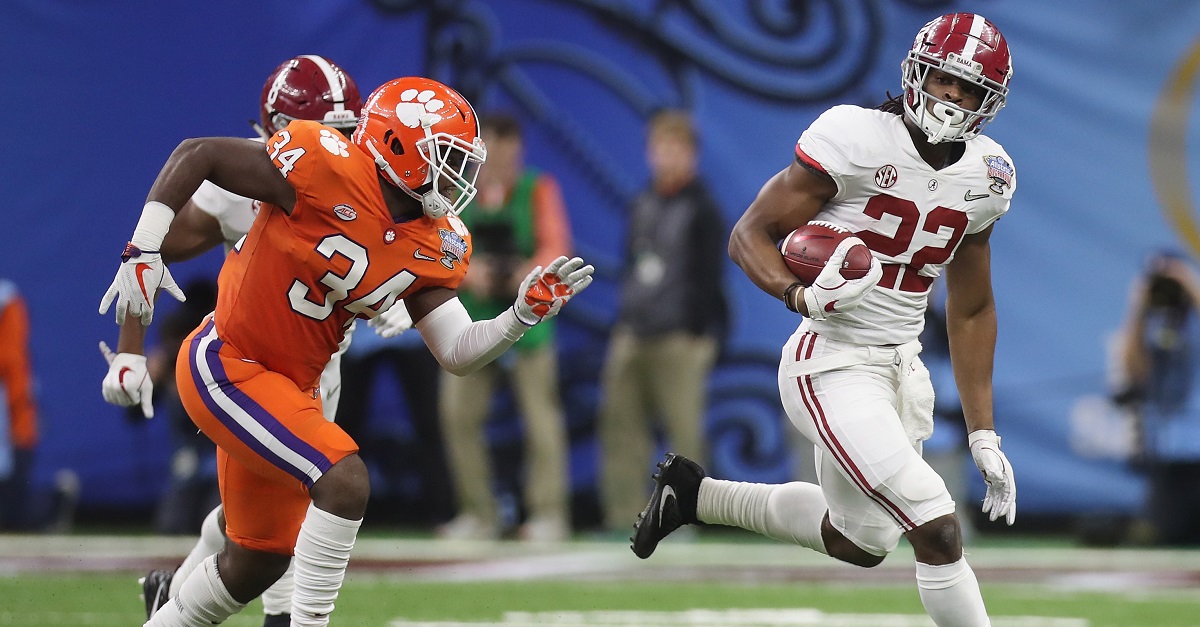 Chris Graythen/Getty Images
NEW ORLEANS, LA - JANUARY 01: Najee Harris #22 of the Alabama Crimson Tide runs with the ball as Kendall Joseph #34 of the Clemson Tigers defends in the first half of the AllState Sugar Bowl at the Mercedes-Benz Superdome on January 1, 2018 in New Orleans, Louisiana. (Photo by Chris Graythen/Getty Images)
The Alabama backfield is always interesting to monitor, if only because the Crimson Tide are seemingly always blessed with an abundance of five-star talent. The 2017 national title squad was no different, with five runners garnering at least 250 yards and Damien Harris leading the way with a 1,000-yard campaign.
With that said, there are a handful of truly special backs that have played in Tuscaloosa in recent years and Tom Luginbill of ESPN is forecasting another. Five-star rising sophomore Najee Harris was electric at times during his first season and Luginbill recently made a very interesting comparison.
"When you hand him the ball, you can see the talent. As far as being a runner, he's an Adrian Peterson [in college] type of player. His talent as a running back is as high as anyone there in Tuscaloosa."
Any running back being compared to Adrian Peterson is eye-opening and Harris flashed some of his considerable potential in the title-winning game against Georgia. The youngster accumulated 64 yards on just six carries and, for the season, Harris averaged 6.1 yards per rush with three touchdowns.
Beyond that, though, the talent was real to the point where multiple recruiting services rated him as the best back in the 2017 recruiting class and, simply put, his profile is tantalizing. It remains to be seen as to whether Alabama will elevate Najee Harris to "feature back" status but, if they do, the upside is considerable.