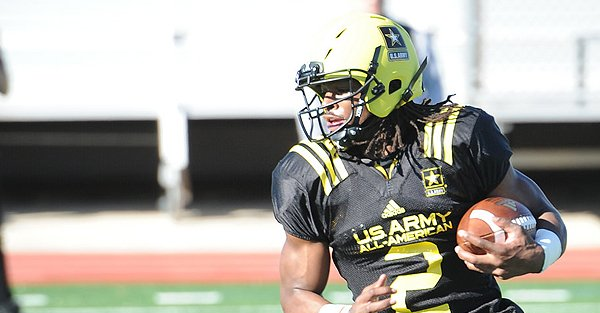 Twitter/@Rivals
Najee Harris was one of the most coveted recruits in the the class of 2017 and his recruitment came down to the last day of early enrollment. He showed up on campus in Tuscaloosa and that was how he made the decision to go to Alabama.
RELATED: Najee Harris explains why he picked Alabama over Michigan
Now comes the part where he proves his No. 3 overall ranking and becomes the next great Alabama running back like Mark Ingram, Derrick Henry, Trent Richardson and T.J. Yeldon. He's got the size at 6'2″ and 224 pounds, but obviously has to show he knows how to use it on the SEC level of competition.
He's well on his way though with some of the comparisons he's already been getting. A UCLA coach was the first to compare Harris to current Minnesota Vikings star Adrian Peterson. Another coach likened Harris, who ranks as the No. 2 running back in this year's class, to "a bigger Barry Sanders."
RELATED: Najee Harris officially arrives at Alabama
247Sports director of scouting Barton Simmons is impressed with the now-freshman and describes exactly what makes him so special.
"He's a huge kid, but he does things that most other running backs that size aren't capable of doing. He has smaller back skills and traits in a big back's body. Because of that, he can be any running back you want him to be and can play in any offense, in any scenario and in any setting. I think that's special, unique and rare. He's one of the most unique running backs we've seen really since I've been covering recruiting, which is over a decade."
Crimson Tide fans should get the chance to see him in the annual spring game since he is an early enrollee and the hype train will be taking passengers very soon.
[h/t AL.com]