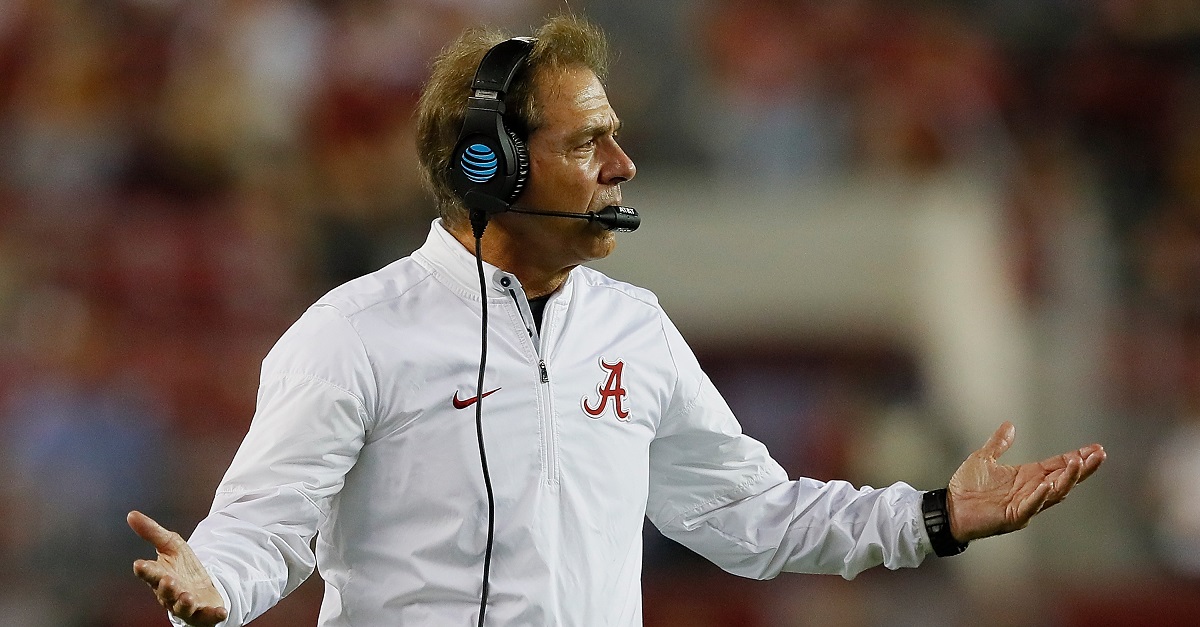 Kevin C. Cox/Getty Images
TUSCALOOSA, AL - OCTOBER 14: Head coach Nick Saban of the Alabama Crimson Tide reacts during the game against the Arkansas Razorbacks at Bryant-Denny Stadium on October 14, 2017 in Tuscaloosa, Alabama. (Photo by Kevin C. Cox/Getty Images)
The Alabama Crimson Tide have been the class of the SEC and, frankly, the entire college football landscape for most of the Nick Saban era. Of course, there are years in which the Tide do not emerge as the national champion but, on an annual basis, Alabama is in the mix and they are able to win in a number of different venues.
In fact, Alabama's success on the road in SEC play has been well documented and it was the subject of a question asked to Saban as a part of his radio show. Unfortunately for the good folks of Nashville, the answer included a potentially accidental shot at the Vanderbilt Commodores.
Saban's statement is accurate on some level, simply because the atmosphere at Vanderbilt Stadium is not exactly known for its explosiveness when compared to other venues across the conference. Still, this is an uncharacteristic statement from Saban, who normally goes out of his way to hide candor, especially when it comes to potential disrespect of opponents within the SEC.
In the grand scheme, Saban's "crime" here is being too honest but folks around the Vanderbilt program likely won't be happy when they are alerted to the particular statement.
Alabama beat Vanderbilt earlier this season 59-0.