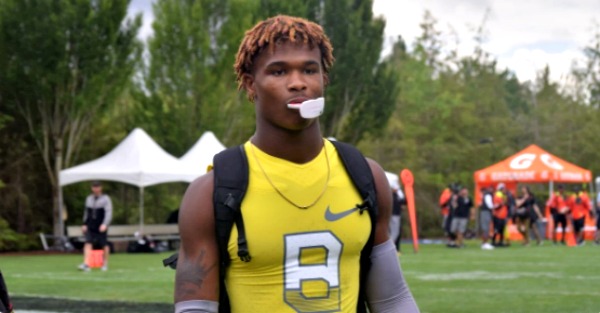 Twitter Screen Shot
VanDarius Cowan had a tough end to his high school football career. After committing two penalties in a game, his coach pulled him, and published reports say Collins behavior on the sideline rubbed a lot of people the wrong way.
He ate on the bench. He fooled around with fans in the stands. He didn't pay attention to the game. Then, he was kicked off the team, according to an account in the Palm Beach Post. He also didn't play in the U.S. Army All-American Game.
RELATED: Alabama's recruiting class is loaded.
All of that might give some coaches pause, but Alabama head coach Nick Saban decided to stick with his recruit.
?We did a significant amount of investigating in terms of what his character issues might have been relative to his team,? Saban said, as per SEC Country. ?We interviewed a lot of people in the school. We interviewed his coaches. We spent a significant amount of time with him. We evaluated how he?s improved academically to try to make the choice and decision as to whether he was someone that we wanted to have involved in our program."
Alabama liked the answers it received, and Collins will be with the Tide when he enrolls this summer.
Collins, a highly touted 6'4, 226 pound linebacker, is the 86th ranked prospect in the country. He's the No. 1 rated senior in Palm Beach Bounty and the No. 5 outside linebacker in the country.
Alabama is clearly getting a confident player.