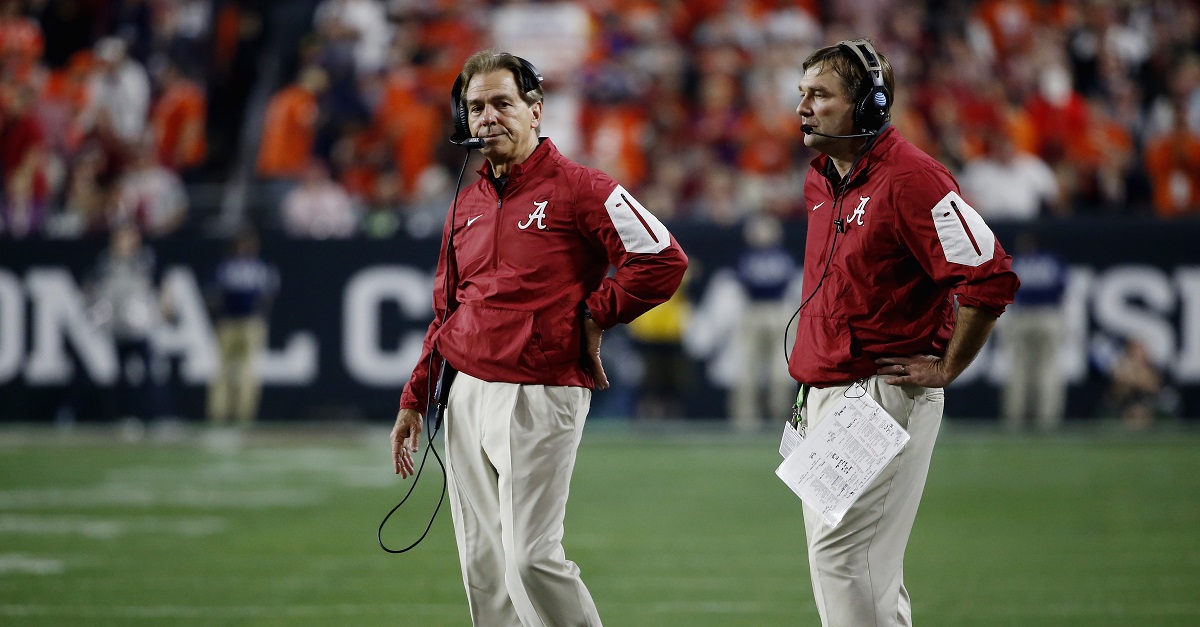 during the 2016 College Football Playoff National Championship Game at University of Phoenix Stadium on January 11, 2016 in Glendale, Arizona.
RELATED: Alabama QB battle in full swing
___________________________________________________________________________________________________
It takes a whole lot to impress Alabama coach Nick Saban. It seems his threshold might be lower for spring practices though knowing that a lot of freshmen have to get in shape and learn the plays. He's also got some upperclassmen who are fighting for the quarterback position and they have certainly made a good impression on the coach.
On his way to the locker room for halftime, Saban gave a quote that might evoke some positive feelings for Crimson Tide fans. He talked about the QB play from all of his guys fighting for the spot and it was not nearly as bad as people might have thought.
"I've been impressed with the young guys at quarterback and their athleticism. They made some plays. I think we're struggling a little bit on the first team. The first offense is having trouble with the first team defense up front. They're distorting the timing of everything so the quarterbacks haven't been able to operate. But Damien Harris has done a good job in the game, so there's some good things. You know, I always say in the spring game when you don't score a lot of points, everybody says you're really bad on offense. Well, how about you're maybe pretty good on defense."
Crimson Tide teams are always good on defense so that could as no surprise, but it's kind of refreshing to see Saban give his quarterbacks some credit considering how hard he tends to be on them. Cooper Bateman, David Cornwall and Blake Barnett are all competing for the QB spot this fall.