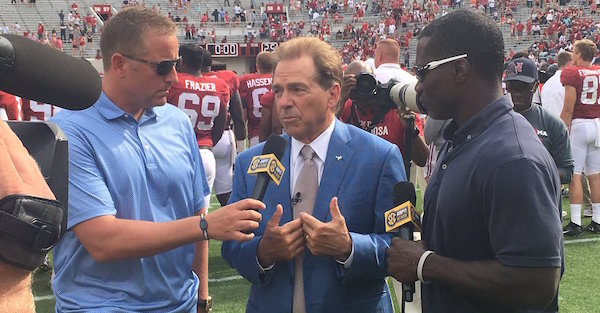 @CoachingMSmith/Twitter
@CoachingMSmith/Twitter
Alabama coach Nick Saban won his sixth national championship on Monday, which is leading to speculation about his future with the program.
While Saban has given no indication that his tenure with the Tide is coming to an end, many have suggested that the former Miami Dolphins head coach could test the waters of the NFL once again, following his decade-long dominance of college football.
However, ESPN's Kirk Herbstreit believes Saban will transition to a media career once his time in Tuscaloosa ends.
"His next step, to me, will be in the media," Herbstreit told ESPN Radio Tuesday morning. "I think he'll either be sitting on College GameDay, or I think he'll be calling games. I think that's an itch for him potentially down the road.

"I think he really enjoys when he comes on our show, almost like a little boy. You know, when he comes on and gets a chance to do it, he'll get done with his segment and say, 'What do you think? How'd that go? How was that? Think it was OK?'"
There has been past speculation that Saban would be interested in a media career, which seems surprising considering his demeanor and unwillingness to give "too much away" during press conferences. However, there's no doubt that college football's best coach would provide a wealth of insight as an analyst.
The rumors also seem to come out every year that the Tide wins a championship, given that Saban doesn't have much left to prove, other than surpassing fellow Alabama legend Paul "Bear" Bryant for sole possession of the most national titles in the college football poll era.
But again, Saban has given no indication that he's done coaching the Tide anytime soon and it should be presumed that he'll continue his dominance until further notice.