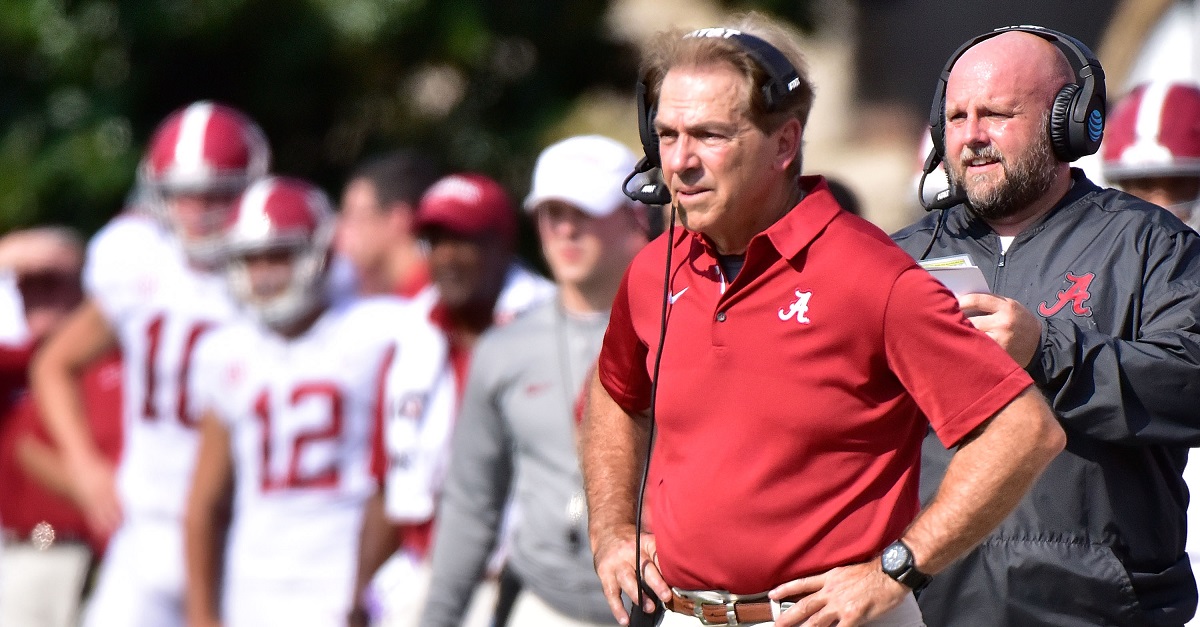 Frederick Breedon/Getty Images
NASHVILLE, TN - SEPTEMBER 23: Head coach Nick Saban of the Alabama Crimson Tide watches from the sideline during the first half of a game against the Vanderbilt Commodores at Vanderbilt Stadium on September 23, 2017 in Nashville, Tennessee. (Photo by Frederick Breedon/Getty Images)
Top assistant coaches leave Alabama all the time. That's just something Nick Saban has to be used to at this point, and it's the product of running easily the top college football program in America.
Kirby Smart, Jim McElwain, and Lane Kiffin are just a few notable top assistants to have left Alabama to join the head coaching ranks. Some have fared better than others, but all gained opportunities because of what they did with Saban at Alabama.
Jeremy Pruitt, now former Tide defensive coordinator, is next on that list of Alabama assistant to hit it big. After a long and somewhat embarrassing head coaching search, the Vols finally tabbed Pruitt to be the guy to replace Butch Jones, and from what Saban is saying over in Tuscaloosa, it sounds like he couldn't be happier for his assistant.
Here's Saban, as passed on by SEC Country and Tennessee football:
"He is hard working, dedicated and organized with exceptional knowledge of the game," Saban said. "He is an excellent recruiter who does a great job developing players and earning their respect. He will do a great job at Tennessee and we wish him the best."
Tennessee is Pruitt's first stop as head coach after a long and prolific career as an assistant.
He started his career as a graduate assistant at Alabama in 1997 and made his way back to the Tide as director of player development before working his way up to defensive backs coach from 2010-2012. Pruitt was the defensive coordinator at Florida State in 2013, helping the Seminoles win a national championship before a one-year stint as defensive coordinator at Georgia.
Alabama eventually got Pruitt back as defensive coordinator and he's been a star assistant for Saban since. Per reports, Pruitt will split time between Tennessee and Alabama while the Tide play in the College Football Playoff.