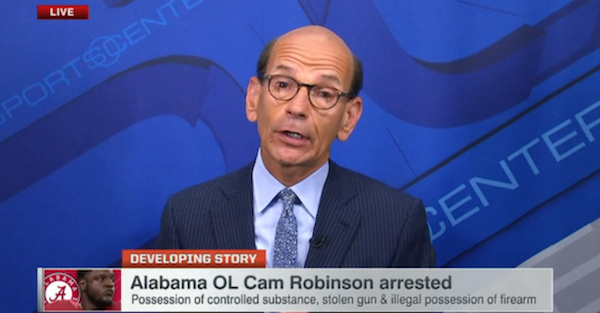 Alabama offensive tackle, and near-guaranteed future first-round pick Cam Robinson was arrested Tuesday on accusations involving marijuana and illegal weapons possession.
ESPN's Paul Finebaum went on ESPN and noted the consequences of Robinson's arrest could be disastrous.
Related: Police release troubling details of Cam Robinson's arrest
"Nick Saban has a great reputation and a history of giving players a second chance. These are serious charges. I don't know if they can be mitigated. Even a minor suspension would still be significant. Alabama's first game is against Southern Cal and its third game is against Ole Miss."
Without Robinson, Finebaum notes many believe Alabama would be in trouble to repeat as the National Champions.
An area criminal broke down how Robinson and Jones could escape unharmed, per Bama Blog, via SB Nation
"There are a lot of defenses to all of this. The government does still have the burden to prove that they knew [the firearm] was stolen, or should have known. But if they can prove they didn't know, then that's an affirmative defense. The district attorney office here [in Ouachita Parish, Louisiana] is very good about trying to keep somebody from having a felony on their record, so it's imminently possible this could be worked out to either a misdemeanor or possibly a dismissal."
The biggest hurdle currently is moving past the charges. Next would be dealing with Nick Saban's wrath.
I'm not sure which would be worse.