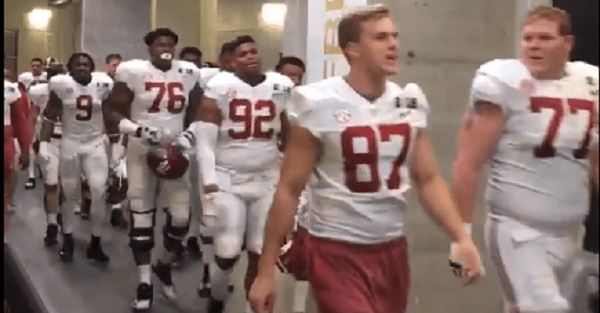 @sportingnews/Twitter
@sportingnews/Twitter
UPDATE: Bo Scarbrough has since clarified what he claims he yelled.
---
President Donald Trump is attending the National Championship Game and was out on the field for the national anthem.
However, one Alabama player who cannot be identified from the video, was caught on camera yelling "F*** Trump" before the team took the field for the National Championship game.
The Sporting News tweet says it was running back Bo Scarbrough, but it's too hard to tell who really said it as the voice seems to come from behind the vested camera man and the player who might have said it is too far behind him to see his lips move.
Alabama played in each of the last three National Championship games, with a 2015 win over Clemson and 2016 loss against the Tigers.
[h/t Bro Bible]