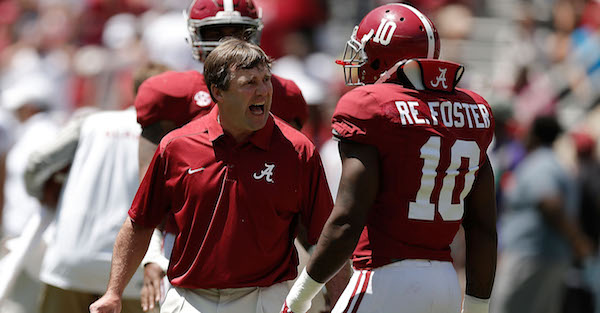 Stacy Revere/Getty Images
of the Crimson team of the White team during the University of Alabama A-Day spring game at Bryant-Denny Stadium on April 19, 2014 in Tuscaloosa, Alabama.
Reuben Foster's dismissal from the NFL Combine stole headlines over the weekend after a reported issue with a medical worker became heated.
After laughing off the original report, Foster's agent reportedly sent a note to all 32 NFL teams.
Here's what that alleged note said, per Pro Football Talk:
"As you know, a decision was made by the NFL to send Reuben Foster home early from the Combine because of an incident that occurred at the hospital in Indianapolis on Friday, March 3. As a result of that decision, Reuben missed interviews that had been scheduled with 16 teams.

"Reuben emailed each of those 16 teams to apologize for missing his scheduled interview with them, and to inform them that he will be available to answer any questions they may have about what happened at the hospital on Tuesday evening between 5:00 pm and 8:00 pm in the Linebacker meeting room at the University of Alabama football offices.

"We are sending this email out to all teams to make sure that everyone is aware of Reuben's availability on Tuesday evening to discuss the incident, as well as any other questions you may have for him.

"If you have any other questions, please contact us. Thank you."
Despite his injury, Foster was scheduled to meet with teams at the Combine in lieu of physical drills. Not only did Foster not get a chance to do that, but he's left a bad impression with some teams if the allegations against him are true.
Regardless, Foster is seen as a lock for a first-round pick in the 2017 NFL Draft, where he could even go in the top 10.