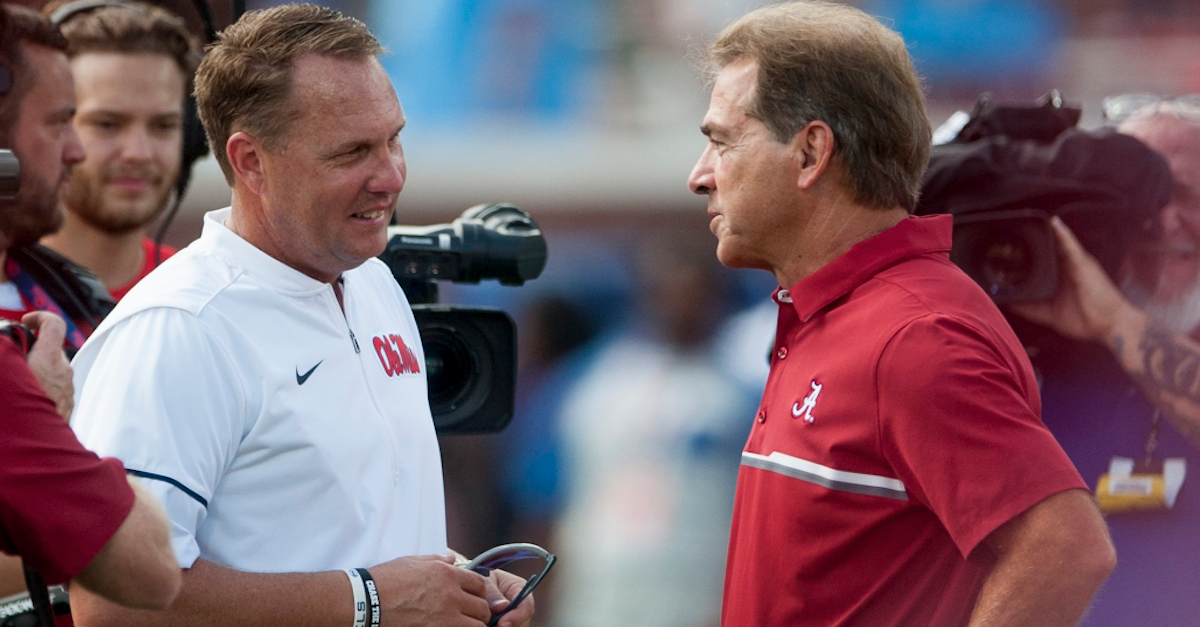 twitter
Saturdays 48-43 Alabama victory over Ole Miss was not the smoothest of games and it definitely wasn't the easiest to officiate either. The game featured six huge replay reviews that helped directly determine the outcome of the game. Monday both Alabama coach Nick Saban and Ole Miss coach Hugh Freeze were asked about the reviews and as you can image the opinions were mixed.
"I think the thing that's more important than all of it," Alabama coach Nick Saban said, "if you're going to put it in some priority is, yeah, it slows the game down, yeah, there's a lot of reviews, but I think the No. 1 priority is everybody wants to get it right. I think the game's a lot better that we have replays, that we get it right."

"Just take the two quarterback fumbles," Saban said. "Both times the guys were down. But there was a big play for them, Jalen was down. There was a big play for us, because they didn't score a touchdown when they got down there on the 1-yard line and the guy basically threw the ball in the end zone and they ended up recovering it. If it would have gone out of the end zone by that much it would have been a touchback and they wouldn't have got any points. But just those two plays, what if we didn't review those two plays? I'm for them getting it right."

"I appreciate the fact that we've gone to the new system where we have sort of a command central where we have the best people reviewing these things and making the best decisions," Saban said. "Hey, everybody's trying to get it right and I certainly appreciate what they're trying to do to get it right."
Hugh Freeze however did not offer such a ringing endorsement.
"The replays — there definitely seemed to be more in that game for whatever reason," Ole Miss coach Hugh Freeze told reporters in Oxford. "I didn't like them (Saturday), they didn't go our way at all, so I'd rather of just kept playing on that given day. And then there's other days you're glad you do have it. I don't know, but the game was long Saturday for sure. I don't have the answer."