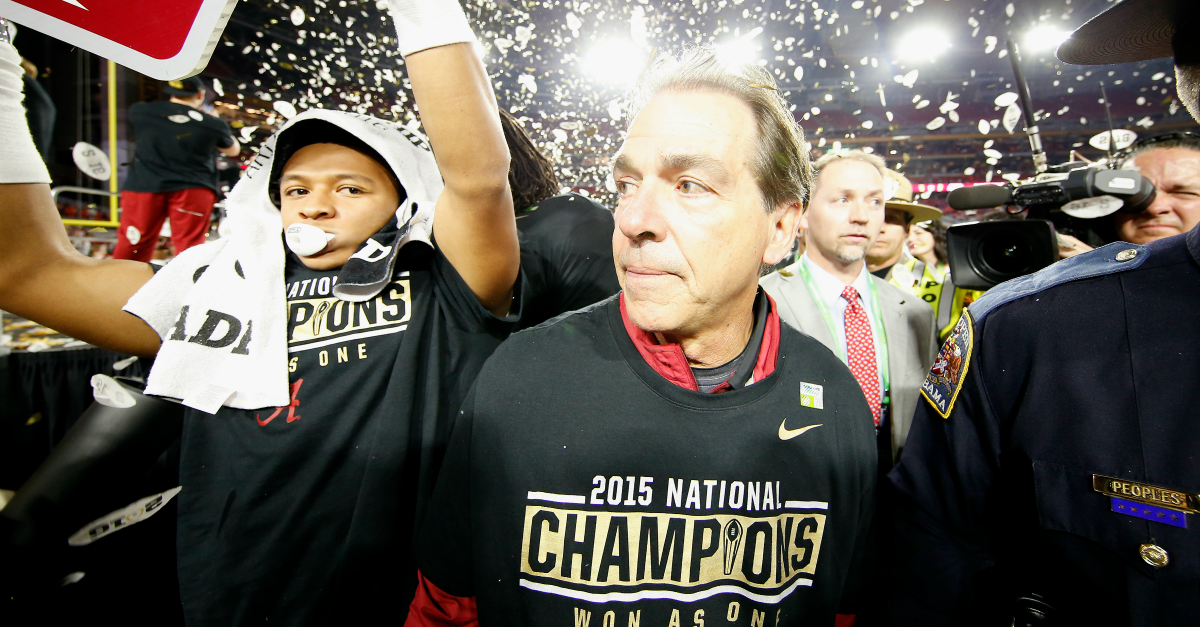 Alabama is a factory that churns out NFL talent every year and the Crimson Tide even had the most former players on NFL rosters last year with 45. However, there are some naysayers out there who claim that coach Nick Saban runs his guys into the ground. It's not new, but the recurring criticism is how Alabama apparently wears out its players at the college level, subjecting them to long and grueling practices during the season. This creates the perception of Crimson Tide stars entering the NFL with less-than-fresh bodies.
Coach Saban isn't going to let those rumors control his reality and perception though. He took his grievances to the public on some sports radio and told those faceless detractors what's what.
"When you talk to NFL teams, none of them ever say that to me," said Saban this week on the Seattle airwaves, according to NFL.com and ProFootballTalk.com. "I don't know where that came from. (Green Bay's) Eddie Lacy comes out and is rookie of the year as a running back. Where's the wear and tear?
"I don't see it. Dr. (Lyle) Cain and Dr. (James) Andrews are our team doctors who deal with a lot of NFL players. They monitor what we do with our players. I don't think this is factual at all, and I resent the fact that anybody in the NFL, with the access we give them, the things we do to try to help them … that anyone would make a statement like that and hurt our program, if it were true."
Saban makes a great point, but he should just point to his rings and the amount of NFL players he's put in the league and call it a day. NFL scouts, GMs and others can say whatever they want, but Alabama still gives them some of the best talent in the league and they should really watch themselves before Saban lays the real smackdown on them.
[h/t SEC Country]