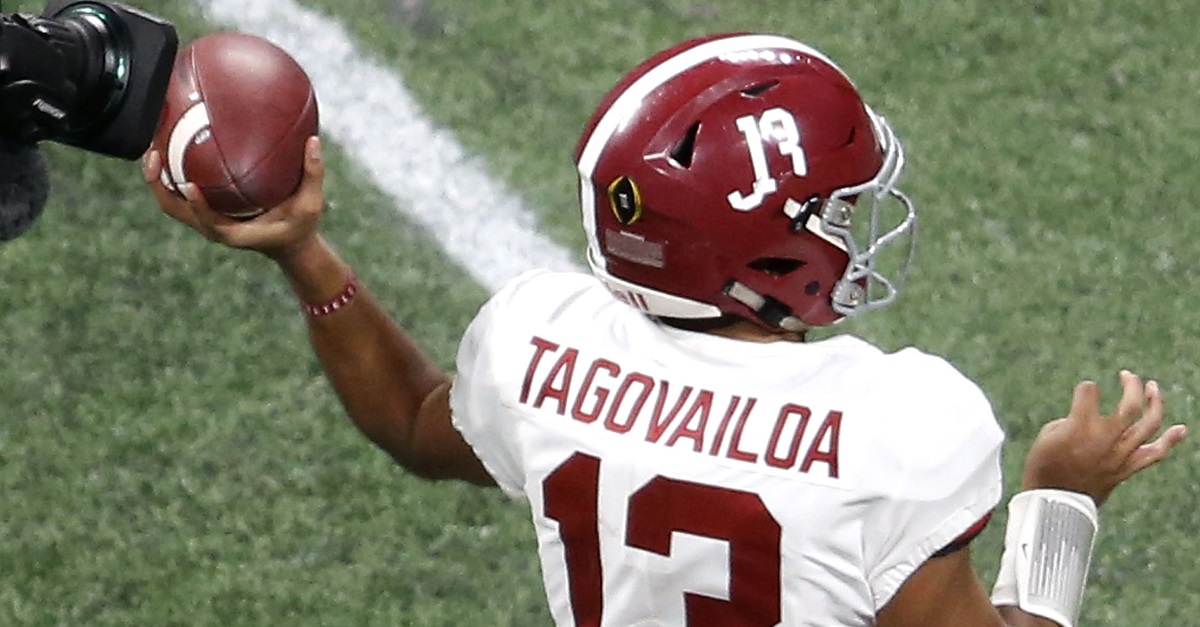 Mike Zarrilli/Getty Images
ATLANTA, GA - JANUARY 08: Quarterback Tua Tagovailoa #13 of the Alabama Crimson Tide throws a pass during the College Football Playoff National Championship game against the Georgia Bulldogs at Mercedes-Benz Stadium on January 8, 2018 in Atlanta, Georgia. (Photo by Mike Zarrilli/Getty Images)
Now with the Nebraska Cornhuskers, former UCF Knights coach Scott Frost is basically king of the mountain. Following an undefeated season, plenty of praise has been hurled toward his general direction. Thanks to that, he's apparently feeling himself.
So much so, in fact, he's not afraid to discuss Alabama Crimson Tide coach Nick Saban taking a little more time than Frost would have to make a switch at the quarterback position during the National Championship.
"It was a decision I don't know I would have been courageous enough to make. That's the answer you want to hear," Frost told ESPN.com prior to winning the Bear Bryant Award Wednesday night."

"The other answer is that [Tua Tagovailoa] was pretty obviously better and they had 12 games to figure that out and didn't. Coach Saban is above criticism with everything he's accomplished, so I don't mean it that way, but I recruited Tua out of high school and knew what he could do and it doesn't surprise me that he did what he did. Jalen's a great player, too. That was a very bold and courageous move and I'm surprised it didn't happen earlier [in the season]."
Obviously, this wasn't straight criticism from Frost. He hedged all over the place.
The last part of that quote remains hilarious, though. It was apparently a bold and courageous move… but Frost is shocked it didn't happen sooner.
Frost made the comments before the Bear Bryant Award ceremony for Coach of the Year. Frost won the award thanks to his 13-0 season with UCF.