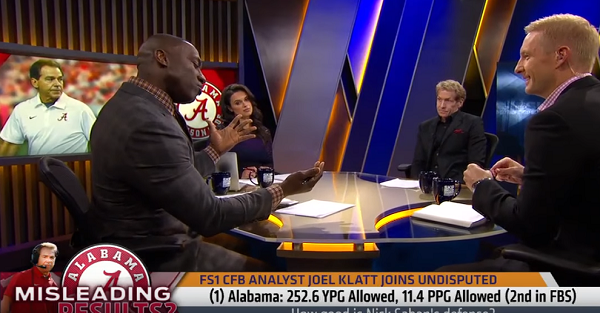 Undisputed/YouTube
You heard the stats that Shannon Sharpe gave in the video above. Nick Saban is one of, if not the best defensive coach of our time. Not only does he have a top tier defense year in and year out, but he has more defensive players in the NFL than a lot of other coaches have total players!
RELATED: Nick Saban sets all-time coaching win in game he'd sooner forget
Bayless had to go through the last four seasons and pick specific games where Alabama's defense wasn't great to try to make his case. However, there has never been a full season where a Saban-led defense has been worse than top 10 in the country. Here's another classic case of Bayless just trying to be controversial for no reason and he even admits that Saban is a great coach at the end so his argument goes out the window.
Here's just some of the guys he's sent to the NFL on defense:
Kareem Jackson
Terrence Cody
Marcell Dareus
Mark Barron
Dont'a Hightower
Courtney Upshaw
Dee Milliner
Ha Ha Clinton-Dix
C.J. Mosley
That doesn't even include the guys he had at LSU so next anyone tells you Saban isn't that great a defensive coach, you show them that list.
[h/t Saturday Down South]