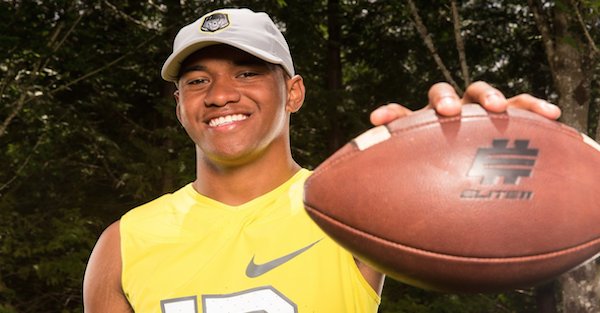 Twitter/@TheOpening
Alabama fans were pretty excited when they found out that five-star dual-threat quarterback Tua Tagovailoa would be on campus for the 2017 season. They were probably even ecstatic when they found out he would enroll early. I'm willing to bet their minds will be blown after they hear what former Super Bowl-winner Trent Dilfer had to say about him.
RELATED: Tua Tagovailoa named MVP of Nike's The Opening Finals
He made an appearance on Tide 102.9's The Game and compared him to a former two-time NFL MVP in Aaron Rodgers.
?I?d say he?s [Tagovailoa] probably the most gifted passer I?ve seen at this age. I worked out with Aaron Rodgers a lot when he was at Cal. Tua throws it better than Aaron Rodgers threw it as a sophomore at Cal-Berkeley. That?s not an exaggeration.?
And to think that Tagovailoa hasn't even taken a spring game snap for the Crimson Tide! Looks like the expectations are going to be heaped on this kid until he makes an appearance in a game for coach Nick Saban. Dilfer also talked about Tua's coachability and how he transformed his game in less than a month.
?He?s the most coachable kid that I?ve ever coached,? Dilfer said. ?He was a trainwreck when I first saw him in May of last year, fundamentally. I actually jumped him a little bit. I gave him some stuff I wanted to see changed.

?When I saw him about three weeks later, he had made the biggest transformation I?d ever seen a quarterback make in a short amount of time, so I have a ton of confidence in the kid.?
Tagovailoa was the No. 1 ranked dual-threat QB in the class of 2017 according to 247Sports and was the top ranked recruit out of Hawaii as well.
[h/t 247Sports]