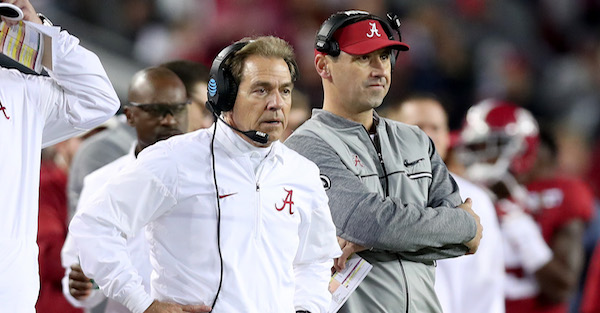 Tom Pennington/Getty Images
TAMPA, FL - JANUARY 09: Head coach Nick Saban (L) and offensive coordinator Steve Sarkisian of the Alabama Crimson Tide stand on the sideline during the second half of the 2017 College Football Playoff National Championship Game against the Clemson Tigers at Raymond James Stadium on January 9, 2017 in Tampa, Florida. (Photo by Tom Pennington/Getty Images)
If you went up to anyone and asked them who the best coach in college football is this decade, they might say Nick Saban. They would certainly have a case, but they would probably be wrong. At least, that's what the numbers would tell us as Florida State's Jimbo Fisher has actually won more consistently than Saban since he took over in 2010.
RELATED: Jimbo Fisher made a decision that will delight FSU fans
He averages 11.14 wins per season according to FSU and that is more than Urban Meyer (11.0), Dabo Swinney (9.89), Nick Saban (9.76) and Bobby Petrino (9.08). And he will face three of those four next year starting with Saban in the new Mercedes Benz Stadium in Atlanta to kick off the 2017 season.
Fisher has brought the Noles to double-digit win season in six of his seasons including the last BCS National Championship in 2013.
[h/t 247Sports]