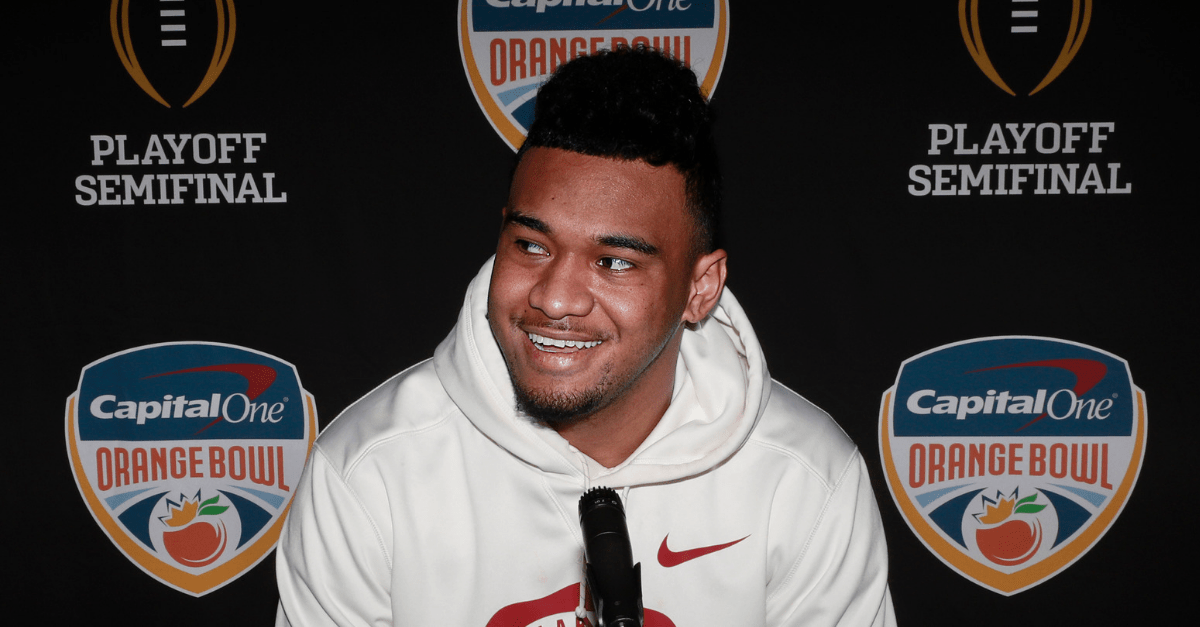 AP Photo/Brynn Anderson
AP Photo/Brynn Anderson
Alabama fans know a lot about their star quarterback Tua Tagovailoa. They know he is originally from Hawaii, he has a little brother that plays high school football in the Birmingham area who signed with the Crimson Tide, and that he is a Christian.
But what they probably didn't know was that Tagovailoa was not a huge Bama fan growing up. In fact, Tagovailoa was a Bama hater.
https://youtu.be/eadDGi59WJIhttps://youtu.be/eadDGi59WJI
RELATED: Heisman Voters Robbed Tua Tagovailoa Because of One Game
During his Orange Bowl interviews this week before the College Football Playoff, the Alabama quarterback admitted he hated Alabama and pulled against them growing up often.
?I didn?t like Alabama, ? because they were winning, nobody could stop them. But, I don?t know, we?re here now, so God bless & Roll Tide,? he said.
He also was a HUGE Tim Tebow fan.
Unlike most Alabama players who either grew up in the state or followed the program, Tagovailoa didn?t have that luxury. More than likely, Tagovailoa was exposed more to the Pac-12 and West Coast football than SEC football.
That may be a shock to some fans, but he did grow up in Hawaii and went to the same high school as current NFL quarterback Marcus Mariota, his childhood hero.
There were rumors before Alabama got involved that Tagovailoa was interested in going to Oregon, but the Ducks weren?t interested in him at the time. There were also rumors last year that had Tagovailoa left Tuscaloosa, his next destination could have been USC, another Pac-12 team.
Eventually, Alabama would step in and it changed the course of his history. Alabama can thank Tagovailoa?s father for that.
No. 13 has said several times his father was a major influence on where he went to college and his father decided that the University of Alabama was the best place for his son to be, which will make Alabama fans forever grateful for that choice.