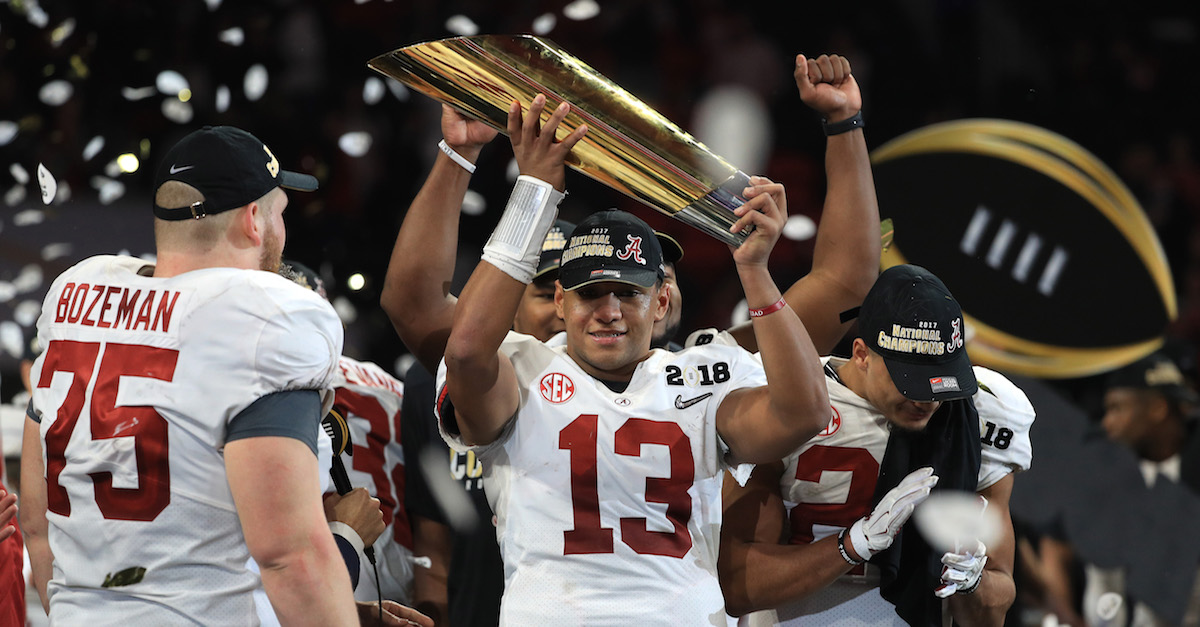 Mike Ehrmann/Getty Images
Photo by Mike Ehrmann/Getty Images
The Tua Tagovailoa hype train continues to gain steam days after his heroic College Football Playoff National Championship performance.
Former Super Bowl winning quarterback Trent Dilfer, who worked alongside the freshman as a Nike Elite 11 QB coach, told The Rich Eisen Show that he thinks Tagovailoa will "win the Heisman next year.?
?Everyone?s going to say, ?That?s hyperbole. Dilfer raving about an Elite 11 kid.? I got a bunch of Elite 11 kids. Jake Fromm was an Elite 11 kid ? I think this kid (Tagovailoa) is as special as any kid since Jameis Winston. Because he?s at Alabama ? because he?ll have to compete this spring no matter what. Nick?s going to demand it, and he?s going to continue to get better. Because they?ll now run an offense that makes sense and threatens all parts of the field. The runners will be better because they?ll have lanes to run in. The offensive line will be better. They?ll convert more third downs, and their defense will be better. Alabama will be the best team in the country, and he?ll be the best player on the best team in the country.?
Tagovailoa who was the MVP of the 2016 Elite 11 camp after dominating seven-on-seven play during The Opening, prior to senior high school season.
Dilfer credited the Tide quarterback as one of the best prospects he's ever worked with and gushed about what makes him a "special" player.
?Probably the most special kid I?ve been around for a bunch of different reasons,? Dilfer stated. ?He?s wildly talented. So, let?s start there. You can check every box off in terms of traits except height. He?s only about six feet tall, at best maybe. But he?s strong; he?s fast; he?s quick; he?s got an Aaron Rodgers-type stroke; the ball spins; he can change speed; he?s got quick eyes. He?s got everything you would ever want for a quarterback, except the NFL height.?
Tagovailoa replaced Jalen Hurts during Alabama?s first possession of the second half during Monday's College Football Playoff National Championship Game and threw for three touchdowns, including a 41-yard game-winner to DeVonta Smith in overtime.
That's enough to make the Alabama quarterback arguably the biggest star in college football entering his sophomore season and will surely help him garner plenty of buzz from other pundits.