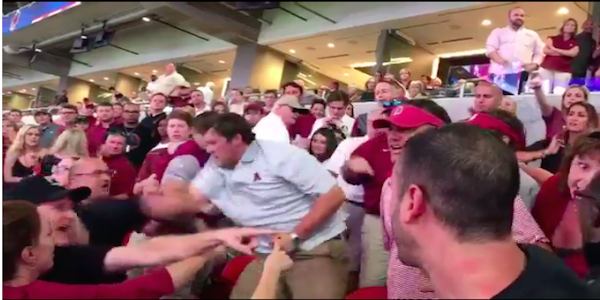 Twitter/BarstoolAlabama
Twitter/BarstoolAlabama
One of college football's biggest games of the season led to high emotions on Saturday.
A fight broke out in the stands toward the end of the Alabama-FSU game as captured by Barstool Sports' Alabama Twitter account.
As you can see, the clearly outnumbered Alabama fan presumably threw some alcohol-indused punches at FSU fans before being escorted out of the stadium. Roll Tide, indeed.
But this wasn't the only fight involving an SEC fan base during the opening weekend.
Barstool Sports' Florida Twitter account also captured a Gator fan throwing several punches during an altercation in the stands during the team's loss to Michigan.
Despite Florida's loss, the SEC dominated its non-conference opponents with an 11-1 record during opening Saturday, although there are still remaining games for Texas A&M (Sunday) and Tennessee (Monday).
"We play the best football and throw the most punches down south, PAWWWWWLLLLL!!!!"