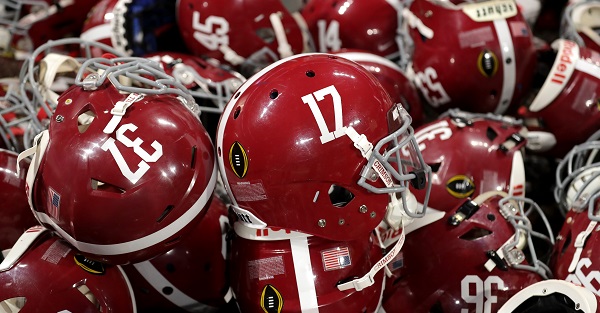 Streeter Lecka/Getty Images
ATLANTA, GA - JANUARY 08: A detailed view of Alabama Crimson Tide helmets in a pile during the celebration after the CFP National Championship presented by AT&T at Mercedes-Benz Stadium on January 8, 2018 in Atlanta, Georgia. Alabama won 26-23. (Photo by Streeter Lecka/Getty Images)
For younger college football fans and even fans of the Alabama Crimson Tide, Vince Sutton may not be a familiar name. The former Alabama starting quarterback took the field as a true freshman under center and, until Jalen Hurts accomplished that feat in 2016, no one other member of the Crimson Tide could say that for more than three decades.
Unfortunately, though, Sutton is no longer with us, as he passed away on Thursday morning.
Sutton faced significant health problems in the latter years of his life, including kidney issues and strokes. In speaking with Don Kausler Jr. of AL.com in 2011, he outlined the challenges of his health condition.
"I have good days and bad days," Sutton said.

A good day?

"Being able to get up with no pain," said Sutton, 44, who has sons ages 26, 19, 10 and 7. "Maybe go outside and walk around. Play catch with my boy. That's a good day for me."

A bad day?

"It's hard to be able to even walk to the table to eat breakfast," Sutton said. "I'm just weak. My body's in pain. Some days are just real depressing."
Sutton may not have been a Heisman Trophy winner or All-American like so many in Tuscaloosa but he is a memorable figure and one that brings fond memories to many in the state. Our thoughts and prayers are with his family at this time of loss.