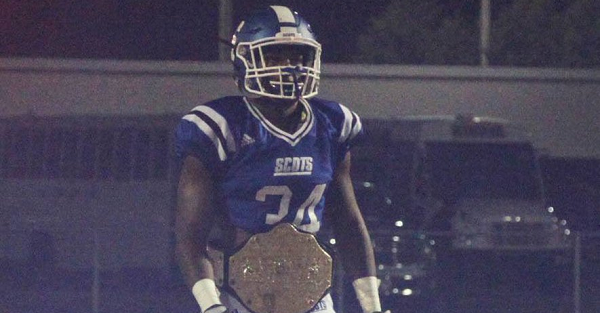 Twitter/Zamir White
Twitter/Zamir White
Five-star and No. 1 running back Zamir White (6-foot-1, 220 pounds, Laurinburg, NC) is set to make his commitment on June 27, and Georgia is currently considered the favorite for White. However, according to White's high school coach, Alabama is back in the mix for White following a recent visit to Tuscaloosa.
From Kipp Adams of 247Sports:
White is likely to have Alabama, Clemson, Georgia, North Carolina, and Ohio State hats on the table when he announces his decision. Alabama got White on campus two weeks ago.

"He had a great visit down there," Bailey said. "I was really almost thinking that Alabama was maybe not in it, and then he had a great visit. They really sold him on the idea that they use multiple backs.
Related: 4-star wideout Camron Johnson makes official commitment: ?There?s no place like home!?
If White were to go to Alabama, he would likely be sharing a backfield for several years with five-star recruit Najee Harris, who was Alabama's top commitment for the 2017 class. The previous thought had been that Harris' commitment could keep a guy as touted as White away from Tuscaloosa, but it looks like he could be on board with sharing the backfield.
White is the No. 1 running back in the nation per the 247Sports Composite. He is the No. 6 overall recruit for the 2018 recruiting class according to the same metric.