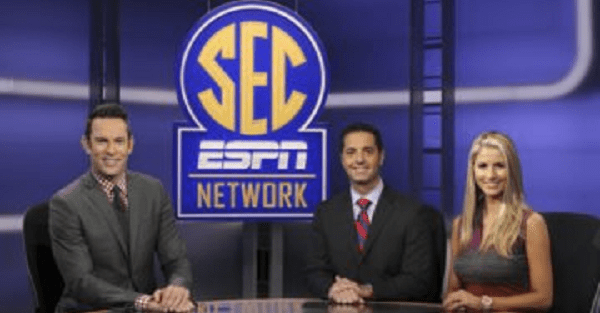 Twitter/@actividadnotice
While the ESPN losses have been piling up with all of the layoffs and how they've been handled, it looks like they might have gotten one back in the win column. SEC Network host Dari Nowkhah has re-signed with the network and will be there for some time with his main team of Peter Burns and Laura Rutledge:
RELATED: ESPN is looking even worse after poor timing to layoff SportsCenter anchor
ESPN senior coordinating producer Tom McCollum spoke about Nowkhah re-signing and what it means for the worldwide leader in sports:
"The depth of our talent roster at SEC Network is one of our biggest strengths, and we are fortunate to have Dari, Peter and Laura hosting SEC Now on a nightly basis. Their distinct personalities and collective expertise on all 21 SEC sports makes the show a must for SEC fans."
Nowkhah and Burns have been anchoring SEC Now since SEC Network's launch  in 2014. They host the show both in-studio and on-the-road. Rutledge joined the team in the fall of 2016 as both a sideline reporter for the Thursday night game and in-studio analyst for the weekend games.
[h/t ESPN Media Zone]