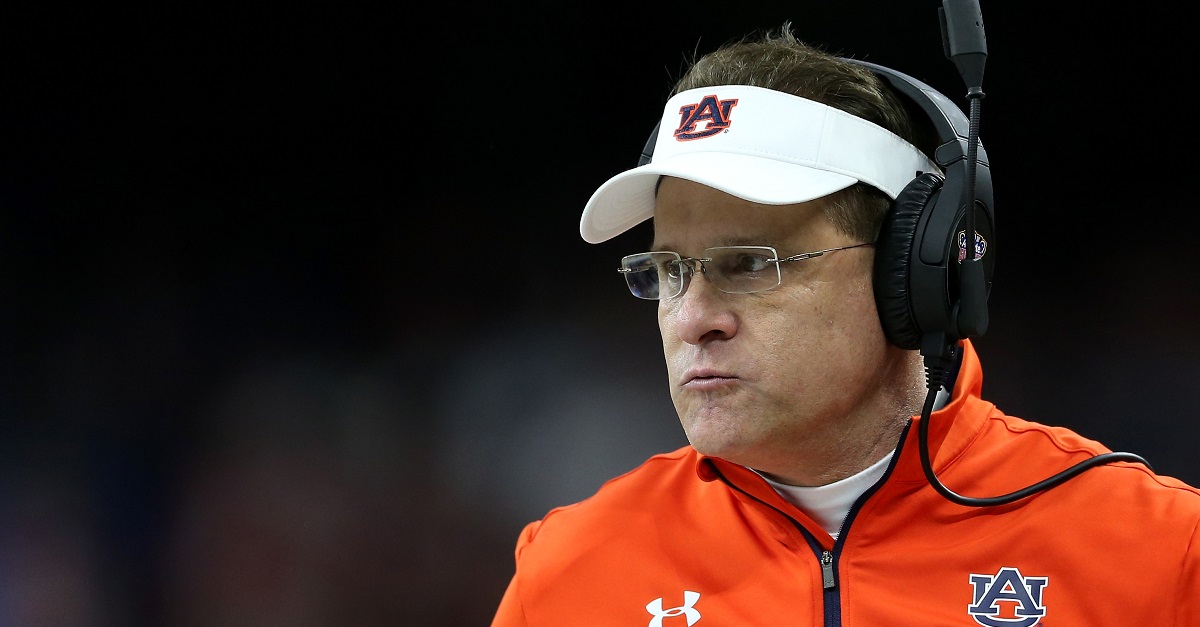 Matthew Stockman/Getty Images
NEW ORLEANS, LA - JANUARY 02: Head coach Gus Malzahn of the Auburn Tigers talks with the officials during the Allstate Sugar Bowl at the Mercedes-Benz Superdome on January 2, 2017 in New Orleans, Louisiana. (Photo by Matthew Stockman/Getty Images)
The Arkansas Razorbacks may already have its next head coach picked out and its rumored to be one within its own division.
Auburn coach Gus Malzahn is reportedly Arkansas brass' top choice to replace Bret Bielema next season, according to Sports Illustrated's Bruce Feldman.
While Bielema has yet to be fired, Feldman notes that former athletic director Jeff Long's recent termination doesn't help his chances of staying past this season, as "big-money boosters" and Arkansas' Board of Trustees seem to prefer Malzahn.
"Earlier this week Arkansas canned athletic director Jeff Long, and multiple sources tell SI that in the wake of a dismal season for fifth-year coach Bret Bielema things have really gotten messy with Razorbacks' brass," Feldman wrote. "Big-money boosters at Arkansas and members of the university's board of trustees have been pushing for the Razorbacks to go after Auburn coach Gus Malzahn to be their next head coach. Malzahn, an Arkansas native, high school coach and former Razorbacks assistant under Houston Nutt, has rallied the Tigers back into playoff contention this season and is coming off a big win over No. 1 Georgia in Week 11."
Arkansas currently has a 4-6 overall record and is 1-5 in conference play. Coach Bret Bielema has a 29-32 record at the school and is 11-27 in conference play.
Malzahn, who previously coached at Arkansas State, is 52-23 as a head coach — including 43-20 (24-15 SEC) during five seasons at Auburn — and has the Tigers ranked No. 6 in the College Football Playoff rankings.