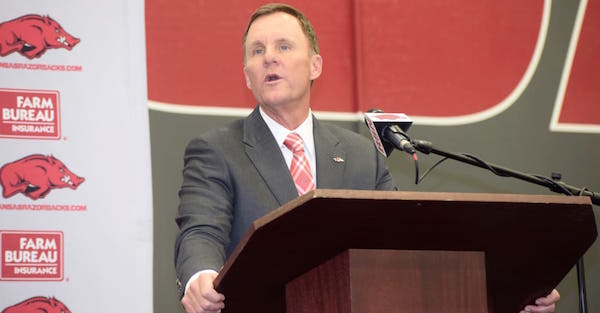 @SECCountryHogs/Twitter
@SECCountryHogs/Twitter
Arkansas has officially hired veteran SEC defensive coordinator John Chavis for the same position, the team announced on its official website.
?I?m excited for the opportunity to help Coach Morris build the Arkansas program and join the great staff that he is putting together,? Chavis said. ?It?s a great time to be at the University of Arkansas and I can?t wait to get started on building a defense that our fans can be excited about.?
Chavis, 61, is one of the most experienced assistant coaches in the SEC, having spent 29 consecutive seasons working at Tennessee (1989-2008), LSU (2009-14) and most recently Texas A&M (2015-17), which includes more than 20 years working as a defensive coordinator.
He was also among the highest-paid coordinators in college football last season, earning an annual salary of $1.6 million. Only Clemson?s Brent Veneables and LSU?s Dave Aranda were paid more in 2017.
?I?m excited to have Coach Chavis as our defensive coordinator, which was a very important hire for our program,? head coach Chad Morris said. ?It?s so important to play great defense in the SEC and Coach Chavis brings a wealth of experience, knowledge and success in the league to the table.?
Chavis' hiring was initially reported last month by Jeff Rickard of ESPN 1070 The Fan in Indianapolis
A&M ranked 63rd in total defense this season, while the Razorbacks ranked No. 102 overall, playing a key role in their 4-8 overall record.
Arkansas hired Morris to replace Bret Bielema earlier this month. Morris has spent the past three seasons at SMU, where he compiled a 14-22 (8-16 AAC) overall record after inheriting a team that had previously finished its season at 1-11 (1-7).
SMU improved its record during each of his three seasons in Dallas, which included a 7-5 finish in 2017.
Morris had previously worked as an offensive coordinator and quarterbacks coach at Clemson from 2011-14 and Tulsa in 2010 before that.
Morris also spent 16 seasons coaching high school football in Texas, where he recorded a 169-38 overall career record, including leading Lake Travis High School to consecutive 16-0 seasons and state title seasons in 2008-09.