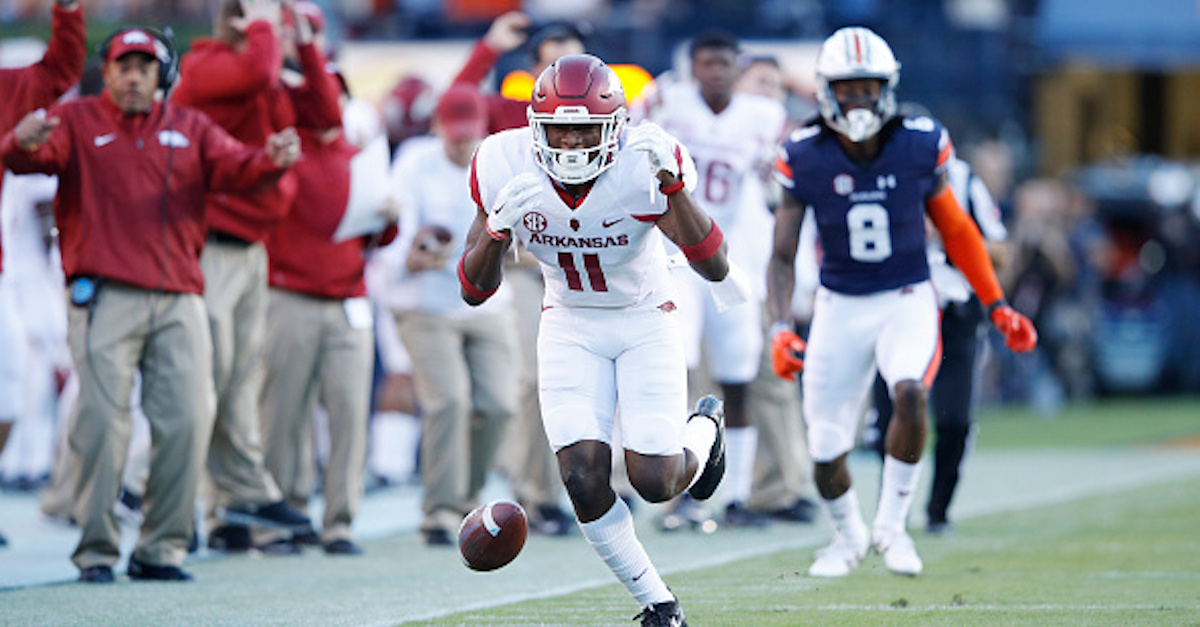 Photo by Joe Robbins/Getty Images
AUBURN, AL - OCTOBER 22: Ryan Pulley #11 of the Arkansas Razorbacks reacts after dropping an interception against the Auburn Tigers in the first quarter of the game at Jordan-Hare Stadium on October 22, 2016 in Auburn, Alabama. (Photo by Joe Robbins/Getty Images)
We're not even days yet into the 2017-18 college football season and the Arkansas Razorbacks have already suffered a huge loss.
After hurting himself in the season opener against the Florida A&M Rattlers, cornerback Ryan Pulley has announced that he'll, unfortunately, miss the rest of the season with a shoulder injury.
"Got my results this morning, yeah I'm done for the season," he wrote on Facebook and Instagram.

"Never take this game for granted because it can be taken away in a second," he went on to write. "Play every down like it's your last. I was blessed that it wasn't too serious but it was serious."
This was a huge loss for Arkansas, especially considering the fact that it happened in the second quarter of a 49-7 win over a cupcake of an opponent. That doesn't mean that losing Pulley against a team like Alabama would hurt any less, but it is worth noting that Arkansas was already up 21-0 heading into halftime, so it's not like this was a close contest.
Pulley, a former four-star cornerback from the 2015 class, was a huge part of the Razorbacks' defense last season. He started 12 games in 2016, notching 47 tackles, two interceptions, a defensive touchdown and 12 passes defended as a sophomore.
He'll almost certainly be granted a medical redshirt for this season so it's not the end of the road for Pulley and Arkansas, but considering how good he has been, this is a big blow for the Razorbacks as they look ahead to tougher opponents this season.
(H/T SEC Country)