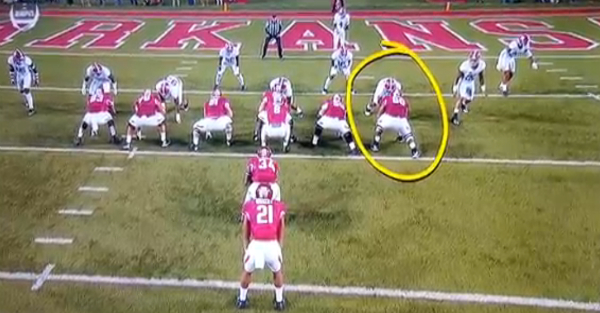 YouTube/Screenshot
Apparently we've found an official make a call so bad that he's been pulled from an assignment.
Controversy emerged this weekend, as video of a holding call from Saturday's Arkansas-Alabama game started making rounds on the Internet. The video shows the penalty being called against Arkansas on a play that clearly doesn't look like a hold.
The call in question negated an Arkansas touchdown, and later caused an 15-yard unsportsmanlike conduct penalty from Arkansas coach Bret Bielema. The Razorbacks were able to get a field goal on the drive, but apparently the call was bad enough that official Sam Weihe has apparently been taken off all future Arkansas games.
From the Arkansas Democrat-Gazette:
"For a lot of reasons we're probably just better off moving forward," Bielema said when asked about the holding penalty on Monday. "I can be rest assured, and all Hog fans can, that we'll never see that official again. That's been guaranteed to me. That makes my heart and my wife's heart probably feel a little bit better."
That is definitely not a ruling you see too often, but to fans, it might make a lot of sense. Considering the old adage that "holding could be called on every play", it is definitely perplexing to see a holding call on what clearly doesn't look like a hold.
Like Bielema said, that doesn't change the result of the game — which Arkansas lost 49-30 — but it might make some Razorback fans feel better about the play.